It might still be a tad too early to put the tree up and deck the house with as many fairy lights and tinsel garlands as logistically possible, but we think it's the perfect time to start planning for Christmas dinner. As November draws to a close, and the most celebrated feast of the year inches nearer, you've likely started to think about the all-important family meal yourself. After all, Christmas just wouldn't be the same without one.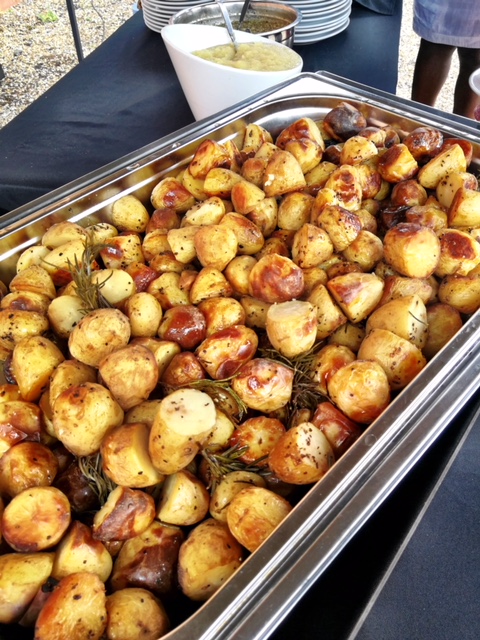 At Hog Roast Harwich, we have been serving festive banquets for thirty years now, and we never grow tired of seeing the look on our clients' faces when they are finally presented with our stunning assortment of dishes. High-quality, affordable and tasty meals are what we're all about. And, on the contrary to what our name might suggest, our menus aren't limited to pork, meaning you can still enjoy a traditional, turkey (or any other meat) feast on us.
Using only ethically-reared meat from award-winning local farmers assures a top-quality meal for both you and your loved ones. But it's how we use those ingredients, that is what makes our meals truly special. Hog Roast Harwich turkeys are beautifully seasoned with herbs before being rotisserie-cooked for several hours which locks in all the natural moisture, keeping the meat nice and juicy.
Once finished, the slow roasted bird is guaranteed to steal the limelight at your event, but the meal doesn't stop there. Pigs in blankets, Yorkshire puddings, sage and onion stuffing, steam-cooked seasonal veg and homemade mince pies are just a few extras included on the menu. And to round off the celebrations, we even offer a selection of indulgent desserts for you to choose from.
If you're ready to bid farewell to the age-old myth that turkey is supposed to be dry, or are hoping for a relaxing festive period spent out of the kitchen, then you're in the right place. Hog Roast Harwich will take good care of you from start to finish, and our team of professionals will ensure that the entire celebration runs smoothly, allowing you to focus on making memories.