The style of wedding breakfast you choose is entirely up to you, so it can be very elaborate or something quite simple. Our menus give you lots of choice so take a look and see what suits your special day the best. Classic or luxurious, we can give you everything you could possibly want.
There's a fantastic choice including canapés, starters, main courses including a meat roast and quality desserts. And if you can't quite see what you want, we will try and meet your desires. After all, Spitting Pig Essex believes your day should be perfect and nothing less!
Your wedding menu will be finalised and ready in plenty of time and well ahead of the wedding. On the day itself, we will be there at least six hours in advance so you can rest assured that everything will be cooked and taken care of.
You may want to consider enjoying one our legendary hog roasts as the evening reception meal. A hog or lamb roast makes a great choice for a wedding reception together with our delicious barbecue options. Spitting Pig Essex have wedding packages incorporating both wedding breakfasts and the evening buffet meaning everything is taken care of, so you can enjoy superb quality food and excellent service for the entirety of your special day.
A wedding day may be a most wonderful and joyous event but the lead up t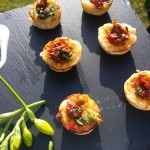 o it can create an awful amount of stress for all concerned. What about the flowers? What about the weather? And most importantly, what about the food? Unfortunately, it is beyond the powers of even the Spitting Pig Essex team to take care of the flowers, or of course the weather, but food we certainly can look after and look after it well. We are there to help make your day magical.
Back To Menus