Hiring a hog roast machine is a wise decision to make, being that hiring a machine is the great tasting of hog roast catering and without all the additional costs that come with the service of a catered hog roast Colchester. But just because it's lower in cost doesn't mean it's not as good, on the contrary, many who've used both have found the food they've cooked more enjoyable. Not because it necessarily is—though who are we to say—but just as much because of the enjoyment that comes from doing it yourself. It's been understood for a while now that when you do something yourself you get much more pleasure from the end result, and hog roasting is no exception to that, if anything hog roasting is the best evidence for that! Because pleasure is something you're going to get by the bucket-load if you hire a machine and cook a hog roast Braintree yourself.
An Enjoyable Experience
The machines that you can hire from us are capable of cooking most foods, the significant of these, the reason you would want to hire a Spitting Pig machine is the spit roast is chicken, pig, beef, turkey and anything that can be spit on our skewers, actually. These are what we call the core foods, the meats, whole and cuts, which can be spit roasted with the machine.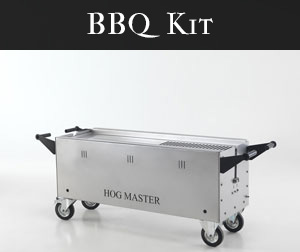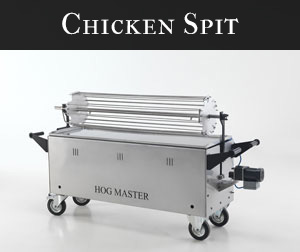 The machines also offer up a few more interesting functions though. We've put a significant amount of work into the machines, in terms of design and utility. An important development of the spit machine, our break through, was to incorporate 'normal' cooking with hog roast cooking. With a Spitting Pig machine you're in a position to spit roast whole meats, at the same time there's a grill in (some) of our machines which can cook anything that you could grill in a household grill. The grill can also be removed with the heat sourced then being able to be used to cook foods in stainless steel pans. Whether you use the stainless steel pains to boil potatoes or rice, or fry or steam vegetables. The possibilities aren't literally endless, but there are enough of them to keep you busy for a few years of hire!
Ever wanted to own your own hog roast machine? Our machines are hand made here in the UK and are built to the highest standard. These machines are perfect for caters looking to offer something special to their events. Get your hog roast machines from our dedicated website and start cooking your very own hog roasts. Get in touch for details.