In many jobs, the people that you work with have the potential to become lifelong friends, so it can be very bittersweet when they retire or move on to something new. At Hog Roast Kelvedon, we can cater for any kind of leaving party, ranging in formality and size, with a menu that is perfect for any occasion. Here is what you can expect when you book in with our team today…
Earlier this year, Hog Roast Kelvedon was hired to cater for a leaving party taking place at an office building in Essex. The event was hosted to say goodbye to a longstanding member of staff, who has been a part of the team since the business opened in 1990. Since Elaine is retiring this year, the office is hosting a leaving party for her to thank her for all of her work over the years and to enjoy a last party together. For the event, our catering manager James has been hired to serve a classic hog roast at the occasion, alongside a meat-free option for 10 of the 80 guests to enjoy.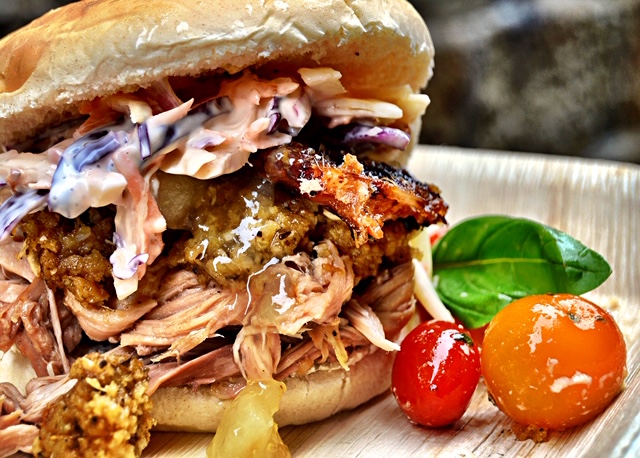 On the day of the event, James and the Hog Roast Kelvedon team arrived at the office block in the afternoon to prepare for the 6:00pm serving time. We began by slow-roasting the hog to perfection and expertly carving it into succulent slices. Once carved, it was served in fresh bread rolls, alongside sage and onion stuffing, homemade applesauce, and crispy crackling. For meat-free guests, we also served tasty vegetables and halloumi skewers, which is a delicious and nutritious dish. For the sides, the guests enjoyed homemade chips, crunchy coleslaw, and a selection of seasonal salad dishes, creating a versatile and delicious evening buffet. Overall, our menu was a great addition to the event and was a perfect talking point for the evening.
To secure your catering package, simply let us know your party size, date, and location and we can get to work. We hope to hear from you soon.