The clients at Hog Roast Broomfield's were rather anxious about the catering for their party due to the Covid restrictions and obeying social distancing measures. But when they spoke to the team and discussed their concerns they were put at ease. The Hog Roast Broomfield team follow every government guideline to the letter, and explained to their clients that they set up a hand sanitising station for the guests to use and that the Chef maintains distance and wears full PPE throughout the whole event and during the food preparation.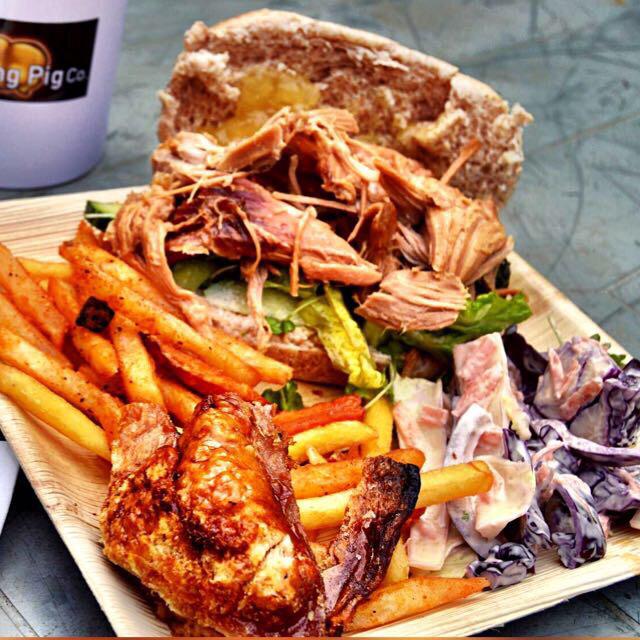 Once the client's fears were relieved they worked closely and gladly with the team to come up with a simple but tasty buffet for their event. The clients were very clear about what dishes they desired for their child's christening celebration and were delighted when their catering package met their budget.
The main attraction at the buffet table was a delicious Classic Hog Roast. This was a slow roasted pig that was served complete with crispy crackling, apple sauce and homemade stuffing. There was also platters of grilled vegetable wraps and a mountain of sweet potato fries. Rounding off the buffet was a big basket of assorted bread rolls for the guests to enjoy.
The Catering Manager from Hog Roast Broomfield arrived at the venue several hours prior to the 6pm serving time. The catering equipment and serving table was set up in the client's garden. The dishes were made fresh by hand leading up to the serving time, so that when 6pm arrived the 10 lucky guests were able to enjoy truly delicious and fresh food.
After the buffet had been thoroughly enjoyed by the guests the Chef quietly tidied away. All the waste generated through the catering was taken away by the team and disposed of responsibly, leaving the clients able to focus on enjoying their event rather than worrying about tidying up.
The whole event was one that felt very special. The clients were thrilled with the work by the team and felt that every COVID prevention precaution had been taken and they felt reassured, leaving them to enjoy their special day with their child.