At Hog Roast Greenstead Green, we understand just how important it is to select the right food for your corporate party, but unfortunately, doing so can often feel like a tremendous chore; and even then it's difficult to achieve a substantial enough turnout that makes all the effort seem worthwhile, right? Keen to make life easier for businesses all year round, we have come up with an expansive list of customisable menu options which offer inclusive catering packages for an all manner of event styles, budgets and dietary requirements which means guests will be unable to resist attending whatever event you've got up your sleeve.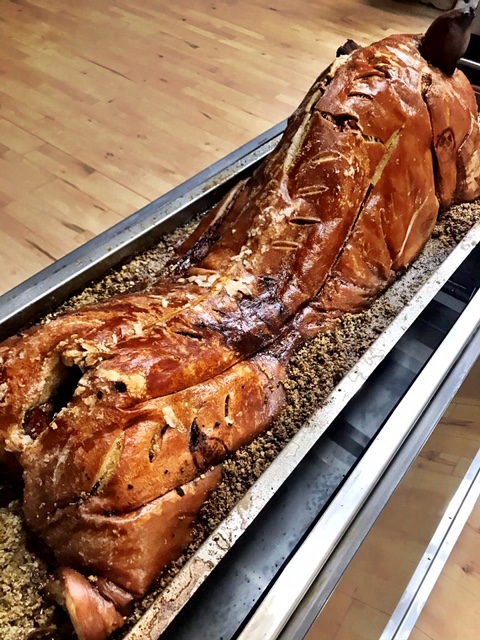 This March has been just as busy – if not busier – than last for Hog Roast Greenstead Green, and our most recent booking saw our hands-on catering crew travelling to a neighbouring town where they were asked to help small business owner Matthew pull off an extraordinary office party for his 115 members of staff. Preparing to celebrate with a bang, the client had asked that we serve our classic hog roast menu which combines the nation's favourite flavours with one of our popular hog roasts – not to mention an array of meat-free dishes that ensure everyone at our events feels welcome and catered for.
Excited to impress the guests with a flavourful buffet of succulent meats, traditional delicacies and colourful veggie options, Hog Roast Greenstead Green arrived at the venue six hours before the scheduled serving time of 8 pm which gave them plenty of time to lovingly prepare the sought-after feast. When the staff arrived on-site, their senses were immediately captured by the tantalising scents coming from the buffet table and as the catering team added the finishing touches to the spread, Matthew and the guests prepared to fill their plates with delicate carvings of slow-roasted meat, pulled pork, homemade stuffing, new potatoes, and homemade apple sauce and the meatless alternative of grilled vegetable skewers with optionable haloumi.
The event couldn't have gone better, and as an added surprise for the staff, Matthew had organised a colourful fireworks display which provided everyone with some overhead entertainment while they filled themselves up with extra helpings.