If a company wants to host an event on their own premises but still wants some high quality freshly made food, who do they turn to? Why, the Hog Roast Stowmarket team of course! We are always a great option for any kind of corporate entertaining thanks to our ability to cook to an excellent standard in any location, including all manner of company premises, whilst also being able to provide such a wide range of contemporary buffet and more formal dining menus!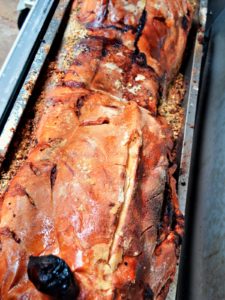 This was exactly why a local car dealership got in touch with us and asked us to provide some superior on-site catering for their 50 members of staff! The management team wanted to show their appreciation for the hard work everyone did across all departments of the company, and they thought treating their employees to one of Hog Roast Stowmarket's varied spreads was the perfect way to do it!
With it being a lunchtime event, they opted for a less formal buffet style menu, rather than a sit down meal with table service, and chose a tempting menu of classic slow roasted pork served with crispy crackling and our homemade apple sauce, along with grilled veggie skewers for the meat free option, a mouth-selection of side dishes, including regular and vegan coleslaw, mac n cheese, a basil and tomato salad and jacket potato wedges!
Our hosts were very impressed that we were able to make all of this from scratch at their premises, not to mention how effectively we could cater for different dietary requirements, despite being best known for our unbeatable hog roasts in the local area!
After spending the morning in our designated food preparation area, we had a beautiful buffet waiting for our 50 diners at 12.30pm! From the shop floor to the admin office, everyone had a great lunch together, including the 5 vegetarian and 2 vegan members of staff! Here at Hog Roast Stowmarket we love helping companies to acknowledge the hard work their employees do by bringing everyone together with one of our sociable buffets and of course, treating them to some fab food!