You may not know this, but Hog Roast Stanford-le-Hope has a factory in the northwest where our machines are handmade from scratch, and if you're thinking of buying your own machine, you're welcome to have a look at one being built, have a chat with our engineers and take a look around the showroom – no catch! Before you buy one, however, we recommend you hire one, particularly if you're new to this style of cooking or have never used this type of equipment before, and once you've tried it, you'll surely be hooked.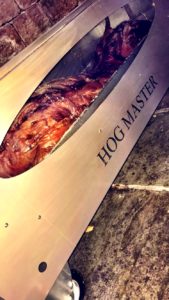 If you fancy cooking your own hog or spit roast, whether at home or for your business, a Hog Roast Stanford-le-Hope hire will ease your concerns and we will leave you to your own devices only once you're happy for us to. When we deliver the machine to your specified location, we always walk you through how to use it before leaving you to it, but we're sure you'll find our range of hog roast machines pretty easy to use, as we made them that way. When we say it's as simple as setting the temperature and turning it on, that's the truth, and the machine does all the hard work while you take all the credit, when in fact you've just been watching over it, doing its amazing job!
Hog Roast Stanford-le-Hope recently spoke to Gerry, a wedding caterer, who said he was thinking of branching out into hog and spit roasts. Intrigued that he could see our range in person and even watch one being handmade, Gerry made a visit to our factory and showroom on Friday, where our team imparted their knowledge and told him about the advantages of each of our range of hog roast machines. By the end of the day, Gerry had booked a rental with us and we advised him that when we deliver the machine to his business this week, we will teach him more about it and we can even deliver the meat too if he wants. Gerry was more than impressed and we think you will be too, so call us today and book yours!