We're sure you've heard all about Hog Roast Canvey Island for our fantastic catering services, where our dedicated professionals prepare, cook and serve high-quality, homemade dishes made out of fresh ingredients or you may well have hired us for your party or event to do just that. You may have also heard about the fact that we rent out our hog roast machines so you can DIY at home, for your business event or for a social occasion like a school fete. But did you also know that we designed, make and sell our own range of hog roast machines, either brand-new or in used but still excellent condition?
If you're a caterer or a domestic chef who's looking to buy a new or used hog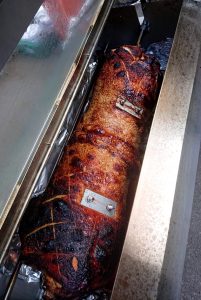 roast machine, you should know that our machines are so versatile that they act like conventional ovens, so you can actually cook so much more than hog or spit roasts using them. While they work brilliantly to slowly roast a hog, lamb, chickens, turkeys or a hunk of beef, plus other animals and birds if required, we designed our machines to be able to cook all kinds of other food too. Whether you want to cook an entire meal in one, with the meat roasting on the top, while vegetables and potatoes are cooking away inside, or you want to simply roast a centrepiece hog to make pigs in buns or you're thinking of barbecuing burgers and sausages using our clever attachments, Hog Roast Canvey Island is the perfect choice when it comes to high-class equipment to do so.
When Martin recently called Hog Roast Canvey Island enquiring about purchasing a hog roast machine, it was because he had been recommended to us by a colleague in the catering business. Martin has spent years catering wedding and events, like we have, and after attending a friend's wedding where they had a hog roast for the main course, he realised the potential for his business. As he had never used one of these machines before, we recommended he hire one first, even though they are very easy to use and produce exceptional food.
After a successful trial run, where he cooked a hog roast for his family and friends, Martin put in an order for a new Titan model and he told us he is very excited to put it into practice.