As soon as we get Halloween and Bonfire Night out of the way, local High Streets all over the UK suddenly become aglow with twinkling lights as everyone turns their attention to the festive season! This year the Hog Roast Ingatestone team were thrilled to be asked to join in the festivities at a local light switch-on and treat the onlookers to some of our fresh and hearty hog roast sandwiches! As our food is the ideal winter warmer for any outdoor event at this time of year, the organisers were sure they would get a great turn-out and everyone was going to love our slow-roasted meat!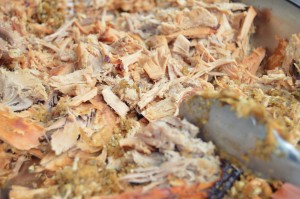 When we arrived at our designated cooking area, we found the place was a hive of activity as last minute checks were being carried out. Because we are so experienced at catering for public events, the Hog Roast Ingatestone team are never distracted by what is going on around us and we always remain completely focused on the task at hand! So, without further outdo, we got down to business and made sure our pork was cooked to perfection for the big light switch-on at 6.30 that evening!
When showtime came, we had timed the cooking of the pork to perfection and as the countdown commenced, our chef was carving the meat, ready for service as soon as the street was awash with festive lights! There was a round of applause as soon as the buildings and trees were twinkling with red, green and gold and a local brass band, who had also come along for the event took their cue to start playing.
In a matter of minutes, a long queue had formed at our service table, but our efficient catering assistants didn't keep anyone waiting for long! We always serve everyone generous portions of freshly cooked food and from the first plate to the last, everyone receives the same level of quality and service!
It was a lovely night with a strong sense of community and everyone loved Hog Roast Ingatestone's food. With all the Christmas spirit in the air, it seems a shame we all have to wait several weeks for the day itself, but we're sure we'll have lots more fun, festive outdoor events to cater for to keep us busy until then!