In the recent weeks, the team at Hog Roast Epping were once again asked to cater for the showcase night at the creative campus of a local university. For three years running we have had the pleasure of catering for students, past and present as their proud friends and families come to be amazed at the wonderful work they've produced. The showcase night includes: displays from the artists, photographers and sculpters; extracts from student films; scripts, short stories and poems by the writers; and performances by the actors and singers.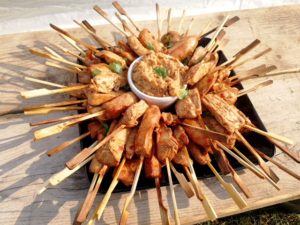 These fabulous nights, hosted by the wonderfully talented students and staff, usually attract about 1,000 guests, and this year was no exception. The university wanted the guests to walk around freely and observe the different artistic works at their own pleasure, and asked us to provide a Hog Roast buffet and an array of canapes for guests to nibble at. There was a choice of the mini margarita pizzas topped with sliced Greek olives; the wild mushroom bouchees filled with creamy garlic and thyme; spicy Thai chicken kebabs with peppers and sweet chilli sauce; Chinese style Peking Duck wraps; the Tiger Prawns served with a lemon mayonnaise; or finally the Feta Skewer marinated in fennel and toasted sesame seeds, served with cucumber and mint. Eloquent tastes for a delectable evening.
The guests enjoyed the canapes as much as our staff enjoyed all the magnificent pieces of artwork that they were able to experience on such a wonderful night. Once again the Hog Roast's succulent meat and crispy crackling had people queuing up for seconds and our staff were inundated with praise about the freshness and quality of our food. Afterwards the Hog Roast Epping team discreetly cleared up after themselves and disposed of all waste off site.
It was an absolute pleasure to bear witness the wonderful displays of creative work and to meet the talented creatives responsible for them. We look forward to next year, to the seeing the new set of works coming through and of course, to sharing our own artwork of fine cuisine, with the university once more!