Valentine's Day has certainly changed a lot over the years, and while some still choose to celebrate in the traditional way with a candlelit dinner, a dozen red roses and a mountain of heart-shaped chocolates, thrill-seeking couples have been doing things a little bit differently lately.
This Valentine's Day, for instance, a hundred-or-so people celebrated the day of love by exploring more of Essex in an outdoor escape game. This augmented reality experience was the perfect bonding event for adventurous pairs looking for a fun and memorable way to spend time together. And with a healthy dose of competition added into the mix, it encouraged them to really put their heads together and solve the puzzle.
The immersive event had been organised by Nick, who has been running similar experiences since they first took off in the UK several years ago. However, this was his first large-scale, outdoor event, and with over 100 participants to impress, he wanted to add something extra to make the experience even more incredible for the ticket holders. What he came up with, in the end, was a hog roast buffet, which he wanted to be served at the final meeting point –  and after a quick Google search, he discovered Hog Roast Ingrave.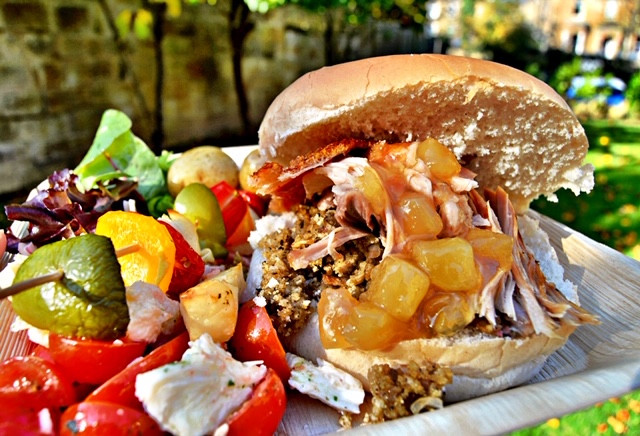 Right away, Nick knew that the Hog Roast Ingrave catering crew would be perfect for the job, and so he asked us to handle his event by serving our Classic Hog Roast Menu to the guests. James, who is our catering manager and in charge of ensuring events run smoothly, assured Nick that this wouldn't be a problem for us and that he had chosen the perfect menu for the occasion.
When Valentine's Day arrived, James and the Hog Roast Ingrave team spent all morning prepping the full-size pig, which was to be served with our sumptuous homemade savoury stuffing, crackling and applesauce on crunchy rolls with a side salad and gourmet 'slaw. To ensure no one would feel left out, our team also made sure to whip up a batch of our vegan BBQ pulled jackfruit. The results were phenomenal, and the guests, who were starving from their morning adventure, were so pleased to have a hot and tasty meal to dig into at the end!