Hog Roast Pitsea works with numerous other businesses day to day, both local and global, to provide catering to their business needs. Whether that be for networking events, client meetings, staff meals, team building days or what have you. Our clients range from some of the biggest in the world and long-established enterprises, to local upstarts still looking to find their feet. Local clients Jill and Jess might well describe themselves as the latter, but having just recently crossed their one-year anniversary as a business Jill decided to surprise her business partner Jess with some specialist catering from Hog Roast Pitsea.
We first met Jill and Jess when they were only a few months into their business. The pair had left their jobs near the beginning of the pandemic and decided to venture into the lands of becoming business owners of their own, starting up real estate agency specifically aimed at helping first time and newer buyers. While trying to attract clients they held an open event with some catering from Hog Roast Pitsea to boost interest. It must have worked well enough because we were delighted to hear back from Jill just the other month, asking if we could come in for their anniversary as a business and surprise Jess with our brilliant hog roast that her business partner loved so much the first time around. Hog Roast Pitsea was of course all too happy to oblige!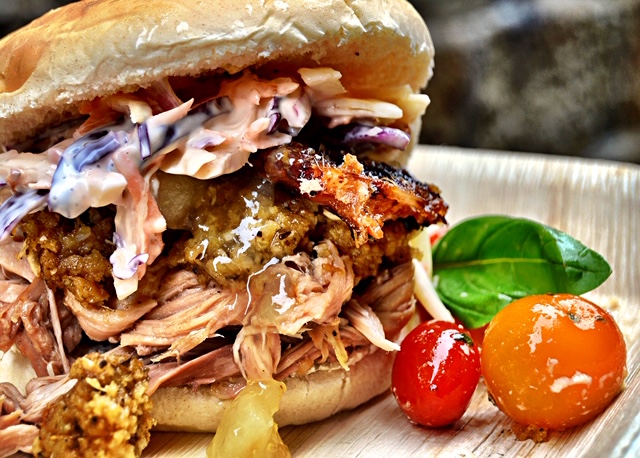 The surprise went off a treat, with Jess none the wiser as she returned to the office for lunchtime having been sent out in the morning, giving our catering team time to set up and get cooking. The business operates with a modest team, so one hog roast was more than enough to feed the party of 14, bolstered by both Jess and Jill's families who joined the surprise. Everyone had plenty to dive into with our roast, presented along with our fresh apple sauce, homemade sage and onion stuffing, and the traditional golden crackling, along with an accompaniment of herb dressed new potatoes, gourmet coleslaw and a seasonal mixed salad, and of course our grilled veg and halloumi skewers as a veggie alternative.
The pair celebrated their one year business in style with Hog Roast Pitsea, and we expect to see them in another few years for further anniversary dates!