The temperatures are rising, lockdown is easing, so now is the perfect time to get the family together again for a scrumptious feast, don't you think? Oh, and don't worry if cooking for a large group of people isn't your forte, that's where Hog Roast Harlow comes in. Whether it's 10, or 1,000 people, you can always rely on our expert catering team to make your event extra special!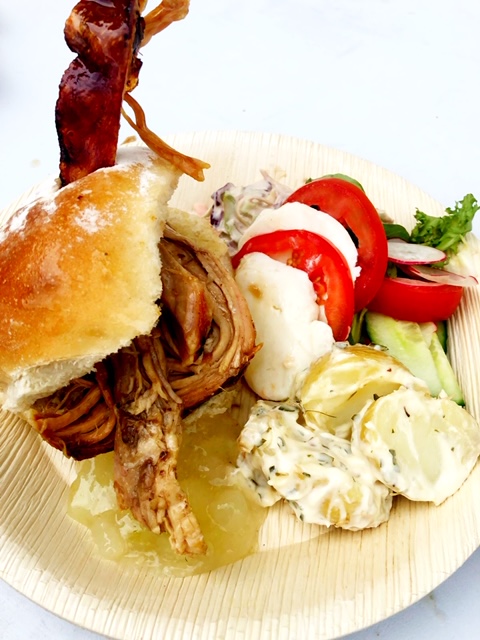 So, If you're looking for alfresco dining that's done right, why not give us a call? The Hog Roast Harlow team is made up from a group of specialists who each have years of experience under their aprons – and they love nothing more than helping our clients get the most out of their events. On that note, let us tell you all about one of our more recent briefs!
In preparation for her lunchtime garden party which took place last weekend at her secluded countryside home, Siobhan had reached out to our customer service team to arrange a booking for our private party menu 3. This menu is extremely popular among our clients, (especially now) because it is ideal for those who are taking a more laid-back approach to catering.
With our catering manager, James on hand to guide her through every step of the process, Siobhan was in good hands from the off. Planning her event for 20 people meant she wasn't in need of one of our super-sized hog roasts, and so instead, she opted for a juicy pork joint which the team evenly scored and slowly roasted above the savoury stuffing. To accompany the spit roast, the team also prepared our famous chefs own gourmet sausages, BBQ 100% beef handmade burgers and chicken kebabs which were presented alongside colourful salads and gluten-free rolls in one of our wooden crockery sets.
With the sun beating down on Essex and plenty of mouth-watering food to satisfy the ravenous guests, it's fair to say the Hog Roast Harlow team nailed it once again! The client and her family were so happy to be reunited over such an outstanding feast, and already they are hoping to have more excuses to call us in the future!