Hog Roast Brentwood were delighted to be asked to cater for 80 people recently at Potters Bar Football Club and we have a wide selection of menus ranging from informal, Hog in a Roll food to more formal sit-down catering. In this case, the client wanted the hog roast experience with mixed salad, coleslaw, tomato and mozzarella salad, new potatoes and vegetable quiche. There are many good caterers for this type of event but one of the things that makes Hog Roast Brentwood stand out is not only the professional service and the very high-quality food, but also the flexibility and adaptability that we have to be able to tailor our menus for the clients' requirements. This was no exception and we always try to fulfil the client's expectation and requirements and wherever possible surpass them; we always welcome feedback and regularly receive very complimentary comments from young and old alike.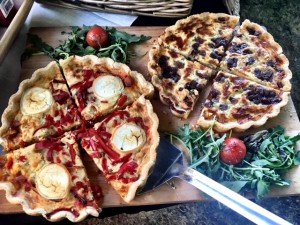 Hog Roast Brentwood caters mainly for three types of event; private parties, corporate events and weddings and in each case, correct menu choice is essential. No two clients nor events are identical and what makes us stand out from the competition is this understanding, our adaptable approach to all clients, large or small, our professional service and our undeniably delicious food. For these types of event, Hog Roast Brentwood has a selection of six menus; Slow Roasted Hog Served in a Roll, Southern Slow Roast Menu, Slow Roasted Hog served with Fresh Salads or Vegetables, Hog Roast Alfresco Dining, Formal Indoor and Outdoor Dining options and Formal Sit-Down Catering.
Event planning is another of our strengths and careful and planned liaison with the client is essential to ensure that all expectations are met, and wherever possible, surpassed. We arrived at the venue in plenty of time, began to set up and started serving when the guests were ready. They had already got a whiff of the delicious aromas of the food that we were preparing, they were certainly ready for their food! Needless to say, the diners were excited and delighted at the food we had to offer with very complimentary feedback on the high quality of the food and exceptional service.