Recently, the Hog Roast Benfleet team were hired by Mark for a party he was hosting to celebrate a first communion. The food was served outside as a buffet, under a grand marquee, with all the food being cooked on site. The garden area had been transformed into a fantastic outdoor seating area with chairs and tables decorated with white and blue covers to give a luxury feel to the event. The layout was very professional and helped to create a great atmosphere at the party. All of the food was prepared on site to ensure that all of the ingredients retained their freshness. The team also sourced all of their ingredients locally to ensure this.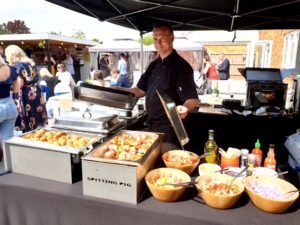 The Hog Roast Benfleet team served Menu Three to Mark's guests which featured a whole hog which had been slow roasted in a professional Hog Master machine. The meat was carved by the team's Catering Manager and was served with apple sauce and homemade stuffing alongside the crispy crackling from the hog. The team also served sausages as well as sides of chips and potatoes. The meat was also served with a variety of fresh salads and sauces on fresh bread rolls. As a vegetarian alternative, the Hog Roast Benfleet team also served lightly grilled vegetable and halloumi skewers which were served with pitta breads and a tzatziki dip. The team cleared all of the waste away after the buffet so that the hosts did not need to worry about any of the elements involved in the catering.
The buffet preparation and cooking was overseen by the Hog Roast Benfleet team's Catering Manager, Jean-Paul, who worked really hard to get the food out on time to the guests. The food was served from 3pm onwards to a large number of 80 guests who were all looking forward to the buffet. The team were really proud of the food they delivered and were really happy that all of the guests really enjoyed the food. Mark was really pleased with the buffet that the team put out and who definitely recommend them to his friends and colleagues.