When it comes to catering any kind of special occasion, our professional, hard-working Hog Roast Waltham team members all work hard to ensure that it's catered to the highest standards, with top-class service provided as well as lovely, fresh, homemade food made from local ingredients. We've spent year after year perfecting our hog and spit roasts but we've also spent this time making sure that all kinds of diets and differing personal tastes are catered too, as we know that our customers need to know that all of their guests can eat on the day, regardless of the reason. We not only provide lots of alternative options, however; we can serve several courses, canapés and plenty of sides if needed too.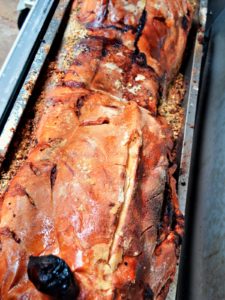 When Hog Roast Waltham catered Carl's birthday over the weekend, he had asked us to cook a hog roast for him and his 35 guests, so that we could make pigs in buns, but he also wanted extra food served. After going through our interchangeable menus, Carl decided that our homemade coleslaw, a tomato and mozzarella salad and our spicy sweet potato wedges would do the trick in ensuring that everyone's hunger was satisfied. Also, these three sides are suitable for vegetarians, and Carl's veggie guests would be able to enjoy these as their main meal too. While our chefs can whip up a suitable main instead, like quiche, burgers or veggie skewers, sometimes several sides are a great choice instead.
On Saturday afternoon, our Hog Roast Waltham arrived at the venue, Carl's friend's home, where we set up our gazebo, serving table and trusty hog roast machine. Before long, after preparing the meat from scratch, we had the hog sizzling in its own juices, and it cooked slowly but surely over several hours.
Nearer to the time of service, while the hog was still roasting, we freshly prepared the wedges and cooked them inside the hog roast machine, separate to the meat that roasted above. Once the coleslaw and salad were put together, we dished up our apple sauce and stuffing, sliced the bread rolls and arranged them with fresh wraps, and it was finally time to carve the meat and serve Carl and his hungry guests.