Not everyone wants a huge event for their birthday and there are many alternatives for celebrations on a smaller scale. At Hog Roast Barrow Hill, we have several different menus that are ideal for casual birthday gatherings, depending on what kind of meal you are wanting to enjoy! Here is just one option for a casual buffet…
Helen turned 30 last month and wanted to keep the celebrations small and intimate, rather than hosting an event or party with lots of guests. She decided to hire Hog Roast Barrow Hill to provide catering at her home in Essex. She had recently brought a projector and screen to watch movies in the back garden and this was going to be the entertainment alongside the delicious catering. Our catering manager James was hired to serve a tasty meal to 15 guests, including some younger children. After looking through our menus, Helen decided that our classic hog-roast would be ideal, followed by a dessert course.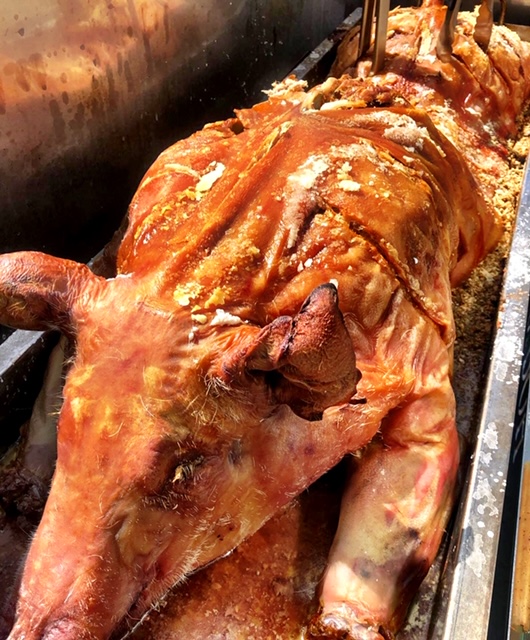 On the day of the gathering, James arrived at Helen's home with plenty of time to prepare for the 7:30pm mealtime. We began by slow roasting the hog and ensuring that it was cooked to perfection, as well as grilling some sausages for younger guests to enjoy. The main dishes were served in fresh bread rolls, with gluten-free rolls available upon request. As well as the main dishes, we also served homemade chips, sage and onion stuffing, green leaf salad, and homemade applesauce. This created a tasty and balanced meal, with plenty to go around.
Following the main course, we served an array of desserts, including sticky toffee pudding, cheesecake, and summer pudding. The desserts were accompanied by fresh berries and English cream to create an elegant and delicious final course.
Are you looking to hire Hog Roast Barrow Hill for an event in 2022? If so, get in touch today to secure your date. Simply let us know your party size, date, and location and we can do the rest. We hope to hear from you soon!