Turning 21 is a wonderful milestone and the marker of becoming a fully-fledged adult. Many people choose to spend their 18th birthday celebrating the fact that they can now legally consume alcohol, so your 21st can be an opportunity to celebrate in a more sophisticated and formal manner- or a chance to do the same thing over again! However you wish to spend the day, Hog Roast Nazeing has a menu that is just right for you.
Lily is celebrating her 21st birthday this May and chose to mark the occasion with a party. The party is set to include 80 of her friends and family, including her group of high school best friends, work colleagues, and siblings. To ensure that everything runs smoothly, the guests are able to enjoy lots of great music, party gamers, dancing, and delicious food served by Hog Roast Nazeing. For the catering, Lily was looking for a casual buffet menu that could be easily served to her guests, while still tasting delicious. After looking through our catering packages, it was decided that our classic hog roast would be perfect!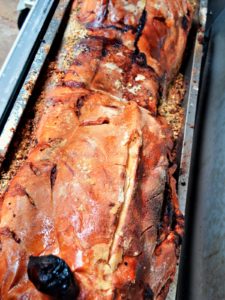 In preparation for this event, the Hog Roast Nazeing are expecting to arrive at the function room in the afternoon, to prepare for the evening service time. This will give us several hours to cook and prepare the dishes on-site, ensuring that everything is cooked to perfection and is tasting great! For the menu, we will prepare and carve a slow-roasted hog, with slices of meat being served in fresh bread rolls. Alongside the rolls, the guests will also be served sage and onion stuffing, crispy crackling, homemade applesauce, seasonal vegetables, and fresh chips. Overall, this is set to be a delicious menu with plenty to go around and something for every guest to enjoy!
Are you in need of a caterer for a private party in 2022? If so, get in touch with Hog Roast Nazeing today to find out what we can do for you. Simply let us know your party size, date, and location and we can do the rest. We hope to hear from you soon!