The Hog Roast Sudbury team got the chance to prove that we are far from your average hog roast company recently, when we were asked by Pauline to cater for a lovely outdoor wedding reception at Baythorne Park.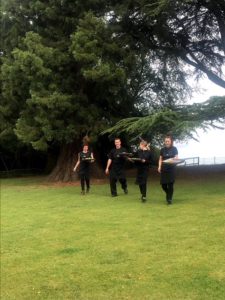 She hired us because as well as providing the best hog roasts around, we are also able to produce diverse and exciting menus full of lots of inventive flavour fusions! This time we were asked to combine traditional and oriental flavours, with a Chinese-inspired menu that featured some of our classic slow-roasted pork and spring lamb, as well as an imaginative pan fried teriyaki, tofu and mushroom dish for the meat-free option. The oriental theme continued with prawn and pea egg fried rice, a pea shoot and edamame bean salad and the provision of Chinese pancakes alongside the more traditional bread rolls.
To ensure we catered for the tastes of all of the 110 guests, we were also asked to conjure up some more traditional dishes to accompany our slow-roasted meats, including a cherry tomato and little gem lettuce salad and buttery new potatoes. The diverse mixture of traditional and more exotic flavours continued in the selection of canapes we were asked to provide, which included Dim Sum, mini pizzas, gourmet sausages and halloumi kebabs.
With such a varied menu to create the Hog Roast Sudbury team were raring to go and we spent several satisfying hours freshly preparing our eclectic dishes before the guests arrived. Catering Manager Jean-Paul ensured everything ran like clockwork and as always, we were ready to serve right on cue at 5pm as the guests arrived. The mixed menu was very received by the bride and groom and all of their guests, which was served to them on China crockery inside a quirky double tepee-style marquee. Our light and fragrant strawberries and cream dessert was the ideal end to a very memorable meal, and as we were serving the tea and coffee at 7pm, we received some great feedback from our diners about the food!
We're glad everyone had such a nice day and loved the food so much, and for Hog Roast Sudbury, it was a great opportunity to demonstrate what a diverse catering company we are!