Corporate Christmas parties are always a lot of fun! They offer a chance to relax and unwind after a busy year of work, as well as a chance to bond with your colleagues and grow as a team. The style of your Christmas party is likely to vary based on what kind of business you are, with events ranging from formal meals to casual office parties. At Hog Roast Quendon, we have a menu that is ideal for any event, including this one…
This December, Hog Roast Quendon was contacted to provide catering for a local office party at an estate agent in Essex. Our catering manager James was asked to provide a delicious festive menu for 30 staff members, followed by a drinks service and a tasty dessert. After discussing the needs for the event, it was decided that our Festive Menu was the ideal choice for the party since it is a versatile choice that is perfect for Christmas events.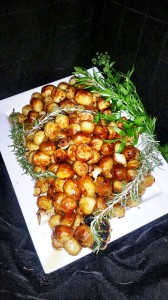 On the day of the event, the Hog Roast Quendon team arrived in advance of the 18:00 mealtime, giving ourselves plenty of time to prepare the catering for the party. The star of the menu is our whole-roasted turkeys, which are expertly cooked to pack in the natural juices and flavours. This ensures that there is no dry turkey and plenty of succulent meat for everyone to enjoy. The turkey is served with all of the traditional trimmings, including pigs in blankets, roast potatoes, seasonal vegetables, homemade gravy, and cauliflower cheese.
Once the guests had enjoyed the main course, we served traditional mince pies with warm brandy cream, as well as a glass of delicious mulled wine. This is a wonderful way to finish the catering and to prepare for an evening of fun Christmas entertainment!
Our Christmas calendar is filling up fast, so get in touch today to secure your date. Simply let us know your party size and location and we can begin to create your ideal catering package. We hope to hear from you soon!