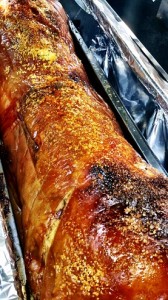 Spitting Pig catering is a breath of fresh air, from pigs to chicken roasts, our catering uplifts and is a cause of genuine excitement. How many times do you think your guests have been invited to an event only to choose from a predictable menu or, worse still, arrive and be confronted by a cold buffet that probably put the whole of 50 pounds to put together?
If they have any sort of a social life they'll have experienced it a few times, which is why getting a hog roast at your event is the wisest decision, because food as good and wholesome as ours, and spectacular lets not forget that, isn't something you come across every day. You'll immediately have your guests seal of approval with a succulent, sticky roasted pig with crispy crackling. Important to our hog roast Upminster catering is the freshness of our food and the values that we share with the farms we use, and the clients who use us. In the world of food values and locally sourced food seems to be the words of the hour, but they're two things we've promoted long before it made good business sense to do so. The range of flavours and delectable culinary notes we hit are as a consequence of our use of local farms, using proper farming methods. We don't mind losing a few extra pennies if it means our hog roasts are the best ever, we've been happy to play the long game and be even more popular a caterer for demanding the very best of ourselves.
Hog roast catering isn't just the best solution, it's one that will always remain relevant in spite of changing palates because we stay up to date with the best foods and flavours there are out there. We've never been afraid to incorporate new dish favourites are sweeping the nation and you can see plenty of evidence of that at any event we're involved in. Whether it's wheeling out Indian or Italian canapés, to fragrant French desserts. Food is adventure and our hog roast Upminster catering is certainly that. Your guests will get to sample new tastes and what first rate food ought to taste like, from appetite whetting chefs own apple sauce to daringly delicious dark chocolate cake. It's a completely different level of good food with Spitting Pig.
The Best Hog Roasts In Upminster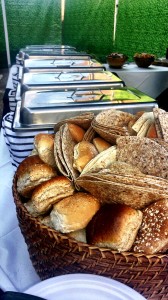 Because our food is so good people have been wanting to know how it's done, but rather than tell people we like to show you. The best way we could show you is for you to book a hog roast machine for hire. That way you get to create a hog roast or any other spit roast yourself, you could even tray roast. We'll show you how the machines work before leaving you, obviously we don't expect everyone to know what they're doing so when we deliver you'll receive a quick bit of instruction on the very basic fundamentals of roasting with our machines. Good food is only a phone call and hog roast hire Upminster delivery away. The machines with the options of spit roasting, tray roasting or griddle are there to be used to cook anything you like, as traditional or unique as you want. We've had people cook everything from zebra burgers on a griddle to monster-sized pigs on the spit. Just like the clients who already use us to book their Upminster machines, you'll never look back once you start to use the hog roast hire Upminster option available to you.
Upminsters been populated and had economic activity since the 1st century. To begin with an ancient farmstead in the general area, that later developed into an industry of agriculture in the few centuries after that. The area like most was largely wooded at one point in time but there were clearances made to make way for good farming land. Farming land in place of natural woods isn't everybody's cup of tea but you can't deny it's given us some really good fresh produce. Upminister might be known best for Reverend William Derham being the first to accurately calculate the speed of sound – besting the more famous Issac Newton – but that's speaking generally, when you're talking about great service however we're the clear stand out in the catering business. Call us or further browse the website for a more in depth look at each of the services available in Upminster. Use our contact page to enquire for a quote.