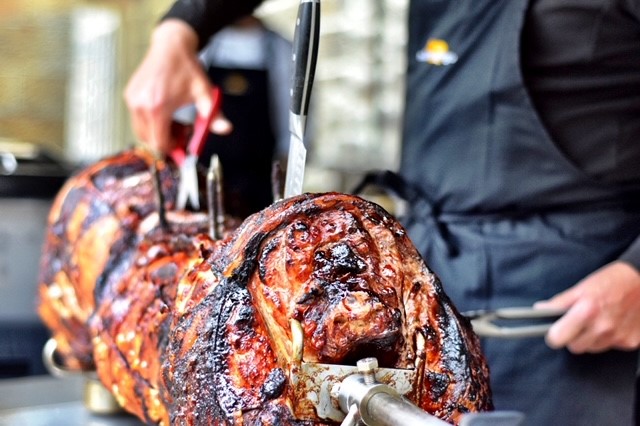 We woo your guests in two ways, first with a first-rate service which really sets the scene of the event, then the hog roast as a food spectacle is something else all together. The distinct taste of a roasted pig, the extra flavour of a hog roast will be apparent on the first bite.
The pig entirely by itself is delicious, the bread, stuffing and serving sauces share the same really exquisite flavour, not to mention the freshness as everything is made by the chefs personally for your event. Even though there's new menus aplenty for you to choose when you pick Spitting Pig, the one menu which we more than any other seem to find ourselves cooking for South Ockendon events is the simplest of combinations, the careful mixture of spit roasted pig with fresh rolls, fresh stuffing and fresh apple sauce. But it's by no means the only hog roast South Ockendon menu our clients find themselves falling in love with again and again. You could say just the same thing about any of the menus in our categories of party menus, business menus and wedding menus. Several spit roast options ensures that Spitting Pig always remains fresh, bringing something new to the table, even if it's the 10th time you're booking us.
The Best Hog Roasts In South Ockendon
The other spit roast options picked by our South Ockendon clients include such classics as spit roasted lamb, to more modern variants of the spit roast, like an amazing spit roasted chicken kebab, cooked just how you like it. If your event would be better suit to something even more grand and plentiful than just a roasted whole animal then how does an entire buffet of food to go with the spit roast sound? There's no need to answer that, it's a rhetorical question as it's too tempting an option for most mortals! Think of all the canapes your guests can have with a spit roasted pig, the salads and starters which bring out the very best of a spit roasted sirloin of beef, and the mouth watering desserts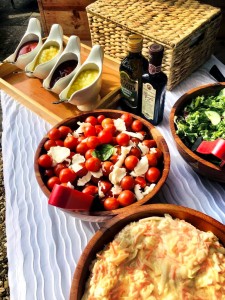 to well and truly seal the deal. It sounds to good to be true but it is true and it's only a booking reservation away.
Something else that's only a booking away is hog roast hire South Ockendon. How would you feel if we told you that you could be the one cooking a hog roast at an event, because that's exactly what you can be doing with our safety and quality assured hog roast hire South Ockendon machines. To master hog roast catering we had to master the spit roast machines we use, we did just that when we started churning out our own models, capable of cooking various sized pigs or other meats, there's even the option of putting to great use a slick built-in griddle. Now there's no doubt if you need a top flight service for your event that catering with a full waiting team and professional chef combination is the best, but if you're happy enough to make your own hog roast then for an informal event you cannot begin to imagine how much hiring a hog roast machine and doing some spit roasting yourself will do for your event – it's done a lot for clients who've already hired, that's for definite.
Leaders In Our Field
South Ockendon is a Church of England parish and is old indeed, ancient actually. Well before the Norman Conquest South Ockendon was a village, in 1085 the village already had a church. In the late 40's the village was home to prefabricated houses which were erected to house West Essex and East London people who'd been bombed out in WWII. After the war much of the construction work was carried out by previous Prisoners of war from Germany. By the 1960s most of those were knocked down. There's been lots of things created and built since that time.
You don't have to look any further than us to see evidence of a new structure, a monolithic catering company, Spitting Pig hasn't been around forever but for the time we have been hog roasting we've done enough to solidify the fact that we're the best at what we do, and the appetite whetting food we've been putting out at events has paid dividence. We've grown so popular and in such high demand that every year we've been able to grow our hog roast South Ockendon company, including new specialist spit roast chefs and new menus for the chefs to cook. It's all done for your guests and you.