40 years is a long time by any stretch of the imagination. We ourselves at Hog Roast Loughton consider ourselves old hat with near enough 30 years as a business, but that pales in comparison to the wondrous marriage of Mike and Mabel, our esteemed customers of the week, who called us up a while back to organise event catering for them and their family and closest friends. The reason for the day? A celebration of an incredible 40 years of marriage together (and another 6 years added to that before marriage!).
Hog Roast Loughton were of course more than happy to oblige and brought our best to help Mike and Mabel celebrate their special day in proper style. We've known Mike and Mabel for a while as they have called us out before for previous events, so they were quick and commanding in telling us exactly what they wanted for their Ruby anniversary event – just the way Our Catering Manager likes it!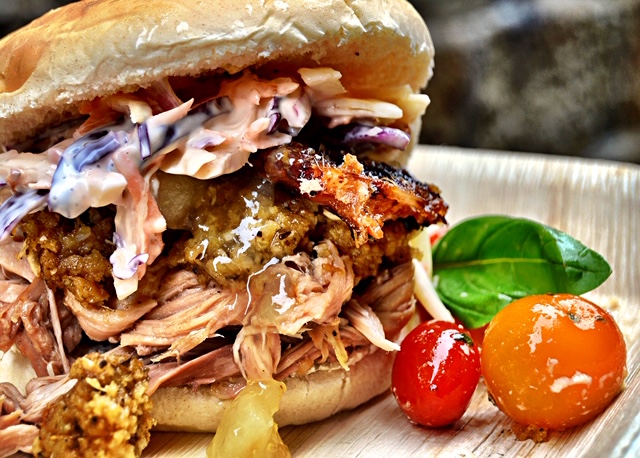 Mike has been an avid lover of our speciality hog roast, whereas Mabel prefers her white meats so they opted for our formal Hog Roast Dining menu. This ensured they both got the dishes they loved most. With this menu their main course was a selection of two meats, with Mike of course insisting on our whole roasted free range pig as a choice, complete with the traditional golden crackling, sage and onion stuffing of our own making, and apple sauce, while Mabel opted for the whole roasted free range turkey accompanied by our stuffing and the traditional cranberry sauce. Mike and Mabel also wanted to add our gourmet sausages and handmade burgers as an early starter to be served as guests arrived to their huge garden and began to mingle.
For a veggie option we had our BBQ pulled jackfruit which is just as excellent as our free range pulled pork. All mains were then accompanied with a selection of fresh market vegetables glazed in butter and sprinkled with salt and cracked pepper, our homemade coleslaw, roasted new potatoes and an addition of fries if guests wanted instead.
The event and our food went down a hit as everyone toasted to and celebrated Mike and Mabel's life together, the pair showing the same adoration for each other as the day they first met. Hog Roast Loughton will be here for the 50th, Mike and Mabel!