In the new world that we are facing many people are eager to continue with their lives, this includes celebrations. Hog Roast Ipswich's latest catering event was for a client celebrating their promotion. However, unlike a usual event where a Hog Roast Ipswich Catering Manager would remain at the venue to create all the dishes, for this event the client wanted the dishes to be cooked off site and delivered ready to eat.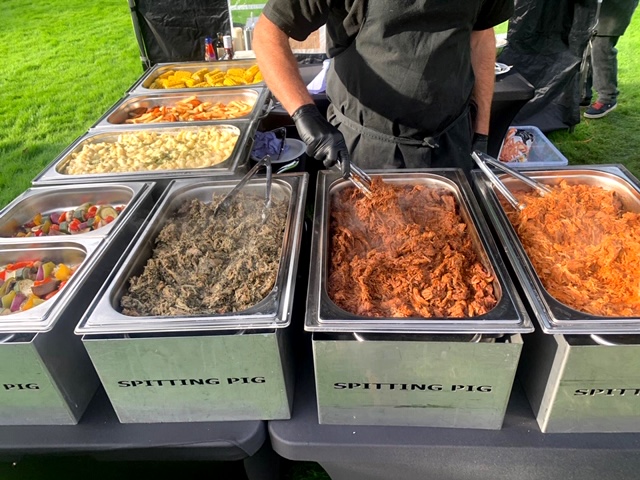 The Hog Roast Ipswich team were more than happy to work with this client. All of the perfect platters would be prepared by the Catering Manager at the Hog Roast Ipswich kitchen, and would then be delivered to the client by 2:55pm, for a set 3pm serving time. The catering package that the client paid for ensured that alongside the delivery of delicious dishes there would be enough high quality, disposable crockery and cutlery for all 15 guests to use during the event.
With the delivery time set for 2:55pm and the route/location of the party double checked the team started to prepare the plentiful buffet. The dishes that the client selected were taken from Hog Roast Ipswich's Southern Slow Roast menu, each dish was packed with powerful flavours. The meat selections for the buffet were: Cajun Spiced Whole Roast Chicken, Fall off the Bone Louisiana Sticky Pork Ribs and Creole Pulled Quarter of Spiced Lamb. All of these meat treats were roasted low and slow and served with the following accompaniments: Jack Daniels Smokey Sweet BBQ Glaze and Stubbs Legendary Hickory Bourbon BBQ Sauce.
That wasn't all though! There was also a vegetarian option of grilled vegetable and halloumi wraps, which were served with a Tzatziki sauce. There was also corn cobettes, hearty Mac & Cheese, a seasonal green leaf salad and a whole mountain of Cajun spiced sweet potato wedges. Rounding off the buffet was a selection of gluten free rolls for the guests to enjoy.
The food was delivered exactly on time to the client. He was delighted with the packaging and professional drop off and service. After the event he thanked the team for doing such a wonderful job, it really made his celebration special.