Most people will appreciate, especially at this time of year, that cooking for large groups of people is never easy. With so many different dishes and cooking times and temperatures, it can be a struggle even for the most experienced chef to get everything prepared on time and served at the correct temperature. Here at Hog Roast Harwich, we have found a way to minimise the stress of cooking by creating our custom-designed hog roasting machines. These machines make cooking a fantastic meal for large groups of people a breeze as the machines truly do all of the hard work for you. It is simply a case of putting the meat on to roast for several hours and then keeping an eye on the accompaniments as everything cooks together beautifully.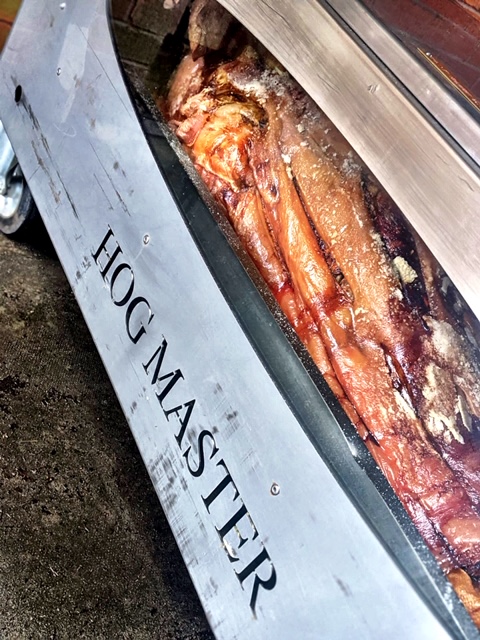 Many people are amazed to learn that in addition to creating mouth-watering hog roasts our machines are also the ideal vessel to cook a Christmas dinner in! Thanks to the spit roast attachments and dual roasting trays you can put the turkey in along with the vegetables and have everything ready right on time. We know that these machines can be a huge help to people cooking for their families which is why we hire out our equipment to members of the public. This way everyone can reap the benefits of our fantastic machines and take some of the pressure off this Christmas.
One such client who was looking forward to doing just that was Esme who had booked in to hire the Hogmaster Pro machine from us for the entire festive period. Esme told us she was planning to host multiple parties over the two weeks she would have the Hogmaster Pro and so wanted to make sure she made the most of it. We gladly gave her some of our best recipe ideas and put her in touch with our local suppliers so that she would be fully equipped with all of the tools she would need to create the best Christmas Hog Roast Harwich!