It's been a challenging first full term of teaching for many teachers, and Hog Roast Takeley's latest event was a very special end of term party. The Client was Head Teacher Jill, she wanted the party to be a chance for her staff to celebrate a successful first term back after a tumultuous academic year.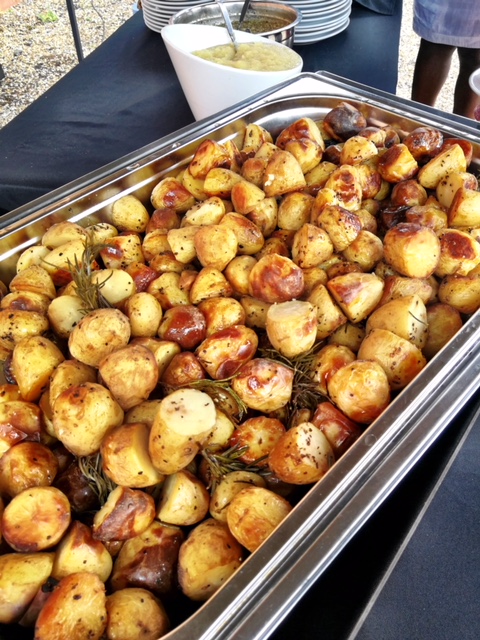 Busy Client Jill found time to work with the Hog Roast Takeley team to put together a menu for the event that would have lots of tasty treats for the tired staff. As well as providing the Chef and food for the event, the Hog Roast Takeley team also provided disposable crockery and cutlery, the rubbish from which they would also dispose of at the end of the event.
Chef Byron arrived at the school several hours before the 5pm serving time, he was able to set up the cooking equipment in the staff room. As soon as everything was ready Chef Byron got straight to work producing the buffet. All the dishes were produced by hand in the hours leading up to the serving time.
The main attraction at the buffet table was the Thai Chicken kebabs and meaty marinated spare ribs. But there was also vegetarian alternatives of couscous and grilled vegetable and halloumi wraps, which had an assortment of sauces and dips. Also on offer at the buffet was Chefs choice of 3 fresh salads, one of which was a delicious Mediterranean Pasta salad. And finally there was a platter of chips which were a mix of regular and sweet potatoes, as well as a basket of soft rolls.
The teachers tucked into the end of term buffet with great eagerness. It wasn't long before the food had been thoroughly enjoyed and the celebration could continue.
As Chef Byron tidied away he felt pleased to have been part of such a special event to celebrate the ending of the first academic term. Everything had been perfect and Client Jill and all her staff sent their thanks and best festive wishes to the whole Hog Roast team.
''