Thanks to The Greatest Showman, the nation has fallen in love with circus-inspired events once again, and last weekend the Hog Roast Saffron Walden catering team were invited to cook up a delicious menu for a local community carnival by event planner Simon who had been placed in charge of the occasion. Instead of succumbing to the pressure of hosting such a large-scale affair, Simon quickly contacted our friendly customer service team who he had previously relied on to pull off a variety of different events in the past.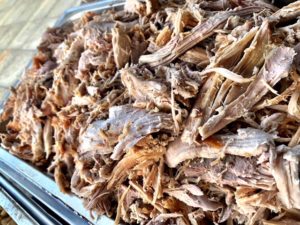 Having already wowed Simon with our cooking skills, he put his trust in the Hog Roast Saffron Walden team to come up with an unforgettable and mouth-watering menu that would leave guests rushing back for more. Drawing inspiration from the popular American musical, the team decided to run with our southern slow roast menu which features classic dishes including BBQ pork butt, Texan 24 hour beef brisket, fall off the bone Louisiana sticky pork ribs and sides of Memphis style crunchy coleslaw, mac and cheese and skin-on southern style whole baked potatoes. To ensure there was more than enough food to go around for the 300 guests, the team also incorporated one of our classic slow roasted pigs to the menu which was to be served up with apple sauce, stuffing and crispy crackling.
It was pouring of rain when the big day finally arrived and the Hog Roast Saffron Walden catering crew showed up to the venue bright and early where the circus tents were in the process of being pitched and stall owners were preparing themselves for the busy day ahead. Working against the clock, the catering team set up the gazebos and quickly launched themselves into slow roasting the succulent meats, laying out the side dishes and condiments and finally, grilling the vegetable and haloumi skewers for any non-meat-eaters in attendance.
Despite the dreary weather, the day was a huge success and the carnival-goers remained in high spirits as they wandered from stall, to stall having their faces painted and collecting toffee apples, candy floss and balloon animals from clowns before filling their plates with food from the hog roast buffet.