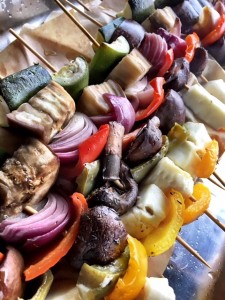 Soon to be married Grace and Philip could think of nothing better than tucking into some delicious slow-roasted pork at their wedding reception and they both immediately thought of having a hog roast for their special day. The problem was however, 15 of their 100 guests were vegetarian, including the best man and one of the bridesmaids, and the couple wanted the meal to be special for everyone, without any of their guests having to put up with lacklustre vegetarian options. They were struggling to find a company who could deliver a menu that would cater for all tastes equally and they were about to abandon their hog roast dream, until that is, they came across Hog Roast Purfleet's varied and vegetarian-friendly wedding menus!
We assured the concerned couple that we take just as much care in designing and preparing our vegetarian options, as we do with our meat dishes, and they were thrilled with the amount of choice available, not just for the main course, but for the starters and canapes as well! They opted for a balanced selection of nibbles to welcome their guests, including wild mushroom bouchees and mini pizzas for their vegetarian guests, as well as Thai chicken skewers and mini Yorkshire puddings filled with roast beef for the carnivores. For the starter they chose some of our hearty homemade soup, followed by their much-anticipated classic hog roast, alongside quiche and vegetable skewers, all served with an array of side salads and homegrown new potatoes and freshly prepared by our multi-skilled Hog Roast Purfleet catering team at their venue!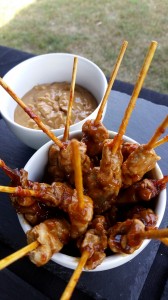 After spending the morning getting everything just right, we were sure both the non-meat eaters and carnivores would all love our menu! As the bride and groom led the way into the beautifully landscaped outdoor area of the hotel they had hired for the venue, their faces lit up when they saw our front of house staff and the delicious choice of canapes that awaited them! From the canapes all the way through to our duo of desserts (a decadent chocolate torte and refreshing fruit salad), all the guests loved every single course and the best man came up to thank us afterwards on behalf of the vegetarian members of the wedding party for treating them to such a fabulous feast!