Did you know that Hog Roast Maldon caters for corporate events too? That's right, it's not just weddings and birthdays we can make special for you, but we're also here to make sure your event reflects your professional reputation too. Just ask Emma who works for Maldon District Council. In the recent weeks, Emma contacted the team at Hog Roast Maldon and asked them to provide a delicious hog roast to feed one hundred and twenty guests, who were comprised of council workers and civil servants. Our Catering Manager Jean-Paul spoke with Emma about the particulars of her event, and she opted for Menu 1, our classic Hog Roast, which would be more than enough to feed everyone.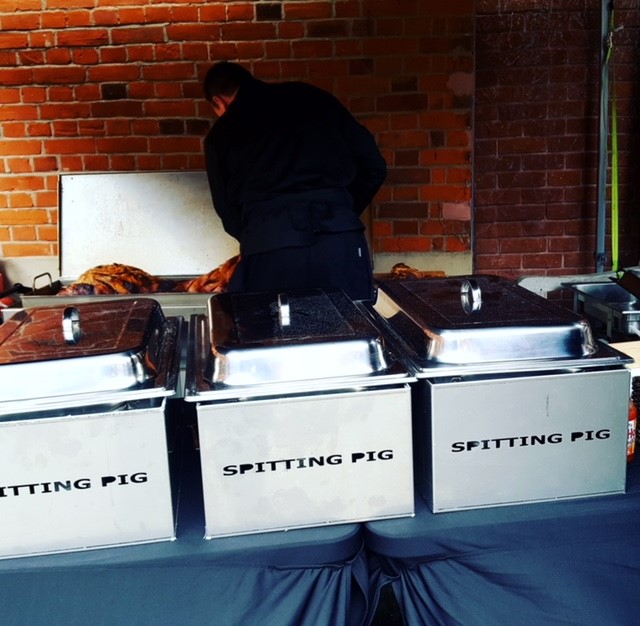 On the day of the event, our Chef from Hog Roast Maldon travelled to the council offices on Princes Road and arrived in the morning at the same time as the staff, in order to allow plenty of time to be ready for the one o'clock serving time. The reason our Hog Roasts taste so magnificent is because of the time and effort we put into the cooking process. First we butcher the pig, and make incisions along the spine to allow the heat to penetrate deeper. As it cooks it slowly turns, allowing its natural basting juices to disperse evenly throughout the meat, making it as succulent and tender as any meat you've tasted. During this time, the chef laid tablecloths on the dining and serving tables, and set up the various sauces and bread rolls that accompany the Hog Roast.
Eventually the clock ticked over to serving time and the Hog had roasted to a wonderful golden hue, with its heavenly scent wafting through the air, making our guest's mouths water. The chef served with a smile and a few friendly words as the queue shuffled eagerly forward. Our pigs in buns went down a storm amongst the councillors who all left clean plates.
If you have an event coming up, whether it is for a private party or an important corporate event, we have the service and the cuisine for you. Why not give the team at Hog Roast Maldon a call and book a free consultation?