Planning any type of event can be a stressful experience and even more so when you are in charge of planning a corporate event. With customers and clients to impress, not to mention your colleagues it is important to get everything right. This is why Hog Roast Harlow are passionate about corporate hospitality. Having been in the catering world for well over a decade, we know that having a competent caterer on board really does make all the difference. That is why whenever we are booked to provide food for an event, we always endeavour to go the extra mile and make sure all your guests leave happy!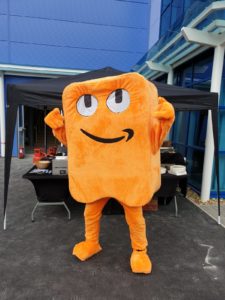 This week Hog Roast Harlow were catering outside of our usual area for an event in Milton Keynes. Hog Roast Harlow catering manager, Jean-Paul, had been contacted to provide corporate catering for Amazon. The multinational technology company had recently opened a new warehouse in Milton Keynes and so had requested catering to celebrate the grand opening which was set to bring new jobs and industry into the area.
Jean-Paul had been in discussions with the event organiser and they had planned an extensive corporate menu for two different serve times. The first serve was to be between 2.15pm and 3.15pm and the second between 6.15pm and 7.15pm with one hundred guests to feed at each time. This schedule would require Hog Roast Harlow to set up nice and early and to work non-stop throughout the afternoon to ensure the food at each serving time was to the same high quality and taste.
The menu options that we had been asked to supply included our fantastic meat free alternatives of grilled vegetable and halloumi skewers. These skewers always go down beautifully and are easily made vegan by simply omitting the cheese and adding lots of extra veggies.
For the majority of the guests we would be serving up a classic Hog Roast Harlow roast along with all the trimmings. This means layers of freshly carved meat placed into a freshly baked roll and topped with lots of crackling, applesauce and stuffing for that perfect hog roast experience.
As we served the last few guests at the second serve time we discreetly tided away and left everyone to enjoy their evenings after another successful Hog Roast Harlow.