When Jennifer called Hog Roast Clacton on Sea to book us for her birthday party, she was concerned that she didn't have enough guests for us to be able to cater. However, we don't have minimum or maximum numbers, so whether you have a small group of guests or several hundred, you'll still be able to enjoy our delicious food.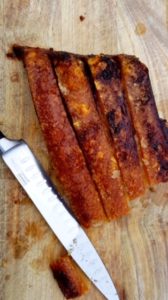 For Jennifer's 35th at the weekend, she wanted our fresh and hot pigs in buns, made at her home in the back garden, served to her and ten friends. This menu is simple but highly tasty and immensely popular with our customers old and new. Our chef could cater this by himself, so on the day of the party, he headed to Jennifer's home to set up our equipment.
Once at Jennifer's home, our Hog Roast Clacton on Sea chef put up the gazebo and serving table in the garden and then busied himself with preparing the meat to be roasted for hours on end. We start off by scoring the meat all over, and then to keep it moist we cover it with lots of water, and to produce the crackling we also smother in plenty of salt. Once this process is done, we turn the hog roasting machine on, set the temperature to low and then the pig sizzles away until perfectly cooked both inside and out. We need to watch over it as it roasts, to ensure it's evenly cooked, and with the machine being gas-powered, we also need to check that the flame remains lit.
Over the next few hours, our chef kept a watchful eye on the hog and meanwhile told Jennifer and her friends all about the art of hog and spit roasting. Before we knew it, the hog was done and it was nearing time to eat, and so while the meat rested, our chef got on with preparing the rest of the ingredients for the pigs in buns – slicing the bread rolls, arranging the condiments and napkins, and dishing up the stuffing and apple sauce.
By 5pm, our Hog Roast Clacton on Sea chef was serving up slices of heaven and all the guests went back for seconds or more.