Here at Hog Roast Braintree, we like to offer plenty of variety and have various menus for you to choose from. You can even select to create your own menu by mixing and matching items but if you already know exactly what you want for your party or event, that's fine by us too. We're known to be very flexible because we know that our customers and their guests have differing wants and needs and we want everyone to be more than delighted with our catering services.
For an event at Zodiac Aerospace Services in Braintree recently, Nick asked us to provide one of our menus, Menu 3, plus additional sausages and three spit-roasted chickens too. Zodiac Aerospace Services has a network of spare parts and components, maintains equipment manufactured by the Zodiac Aerospace Group, and offers support services to both airline operators and dedicated technical support. For their event, we would be creating various tasty dishes. Our Menu 3 includes a gorgeous, slowly-roasted pig that we serve with the salty crackling and our own apple sauce and sage and onion stuffing, as well as bread rolls so that you can make pigs in buns if preferred. We also serve lovely, warmed new potatoes with a herby butter and three freshly-prepared salad dishes with this menu, so the 85 guests would have variety and plenty of it.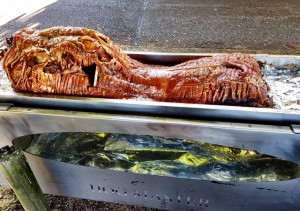 On the day of the event, Hog Roast Braintree arrived in the morning, hours before the lunchtime service, so that we could prepare the hog first. It takes several hours to roast until perfectly crispy and golden on the outside and juicy and moist on the inside and after years of practice, it really is perfect. The tantalising, meaty smells fill the air and the sheer sight of a centrepiece hog roast makes mouths water and we always get asked how long it will be until it's ready to eat, but it takes as long as it needs, at a low temperature, slowly but surely.
By noon, it was finally done, along with some delicious additions, and our Hog Roast Braintree team got ready to serve the guests lots of scrumptious food.