Welcome to Spitting Pig Essex – the number one choice for Hog Roast Essex and event catering right across the county. We pride ourselves on the quality of our service and an excellent finished product. Take for example the many spit-roasted types of meat that are the foundation for our menus, there's a great deal of choice to be had. Spit roasted turkey, lamb, beef, pig and chicken are just 5 spit roasted meat choices that you can choose from with our Hog Roast Essex menus. Whether you are looking for a hog roast in Chelmsford to accompany your daytime wedding catering or simply want a hog roast served in a bun for a small garden party in Brentwood we are here to help.
Hog Roast Essex

We source the produce for our catering from Essex farmers, and we set about doing this a long time ago because we believe it's important for a number of reasons, one of those being that with better free-range produce the final product of our cooking is that much tastier. But some people have their own preferences and if you know what you like, you know what you like. That's why we've built relationships with farmers all over the country and can source specific breeds for your event, and different animals too – Ostrich, pheasant, duck, deer, bison and kangaroo are just some animals that we've sourced for customers over the years to make their occasion that extra bit perfect. And we hold the produce to the same standards as we do the produce from our everyday menus, all are free range and sourced ethically, and from Essex (when it's possible).
Hog Roasts in Chelmsford Catering for any Occasion
It's this insistence on doing all we possibly can for our customers that's made Spitting Pig so well prized when it comes to providing hog roasts in Essex. There's no company that equals what we do for our customers, none who can rival our staggeringly good value. Some may talk the talk, but we've walked the walk – and I've no intention of slowing down or stopping to catch my breath.
So just what is involved in hog roasting?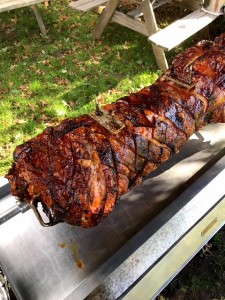 Hog roasting is a beloved cooking method that when done right is capable of taking a little bit of heaven and putting it on your plate. It's an age-old style of cooking that's very simple, involving the skewering of an animal and the steady cooking of the meat over a heat source – we use real flames – for a great number of hours until it's beautifully tender and ready to be served.
The perfect hog roast is superbly succulent and juicy, with a crispy crackling to contrast the tender meat and make your taste buds explode in joy. The trick to the hog roast Essex taste is in the rotation of the skewer as the meat cooks, because while the skewer(and by extension the animal) rotates, those juices that give meat flavour are time and time again being immersed back into the animal, not allowed to drip off or be lost to the machine. It's similar to roasting a chicken in the oven, every now and then you'll take your spoon and pour the juices in the tray back over the animal – Hog roasting is like that, only on a more efficient and infinitely better and grander scale. Because we don't need spoons and hog roast machines are so perfect that dry or tough meat that's often a problem with normal oven cooking, just isn't in the machines vocabulary
But I'd be selling hog roasting short if I mentioned only the magic taste of hog roasting because it's so much more than that. Hog roast catering is charismatic, there's character in abundance and people are naturally drawn in by the awesome spectacle. Because it's something more than cooking, it's also a powerful, visual experience that lets people know that the occasion is special, that you've pulled out all the stops and that this isn't any normal event. And that's a powerful selling point of hog roasting that people can't get enough of – what we like to call the live theatre of hog roasting, a bold statement of intent and purpose that cannot be matched by any other machine, or chef.