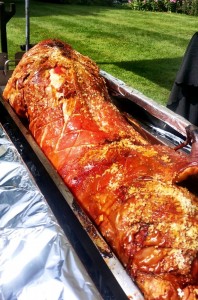 Hog roast Witham  cuisine is as popular as ever now people are beginning to really buy into the importance of freshness and where and how food gets to your plate. People understand now that clients aren't the be and end all of healthy eating, it also matters if the food is free of nasty chemicals and growth hormones, people come to Spitting Pig for their Upminster hog roast menus because we're Innovative food is what we do.
It would be easy enough to make hog roasts and call it a day, the spit roasted pig – or any other whole spit meat – is a proven classic after all. But as you'll get to know us better you'll come to know that Spitting Pig is anything but lazy. Thriving on new experiences, be it making new foods or getting to know great people, we're in constant improvement mode, never stopping to look at different things we could do to take that next step forward.
The Best Hog Roasts In Witham
It's paid off. People put us at the top of their Hog roast Witham catering wish list for their event, nothing pleases them more than a pig spit roasted for hours then carved in front of their guests just for the event. From buffets to plated menus, a party or wedding to a business opening, what you want is something to reflect well on the occasion, the tastiest spit pigs do just that. There's a lot to consider when you're throwing an event, it's not just food that's high on the agenda, that stands to reason. But whether it's for a gala, a wedding reception, an evening party or any other event, we're the guys you want on the job. Specifically our chefs, who're certified stand-outs of their spit roasting craft. Crispy crackling complimented by moist meat and thick, fresh, crusty bread or standard white rolls, your guests are in for a true spit roast treat with Spitting Pig booked to deliver the catering goods.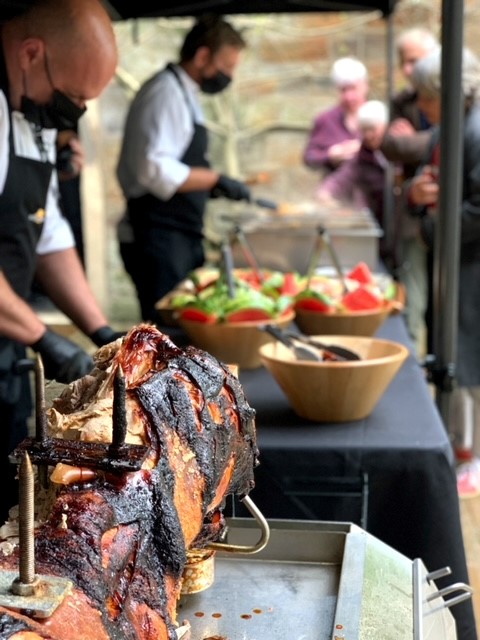 With us assisting you, you also needn't worry about having to tidy up the site of the event, or being told off by the person you're hiring the venue from, because that's a part of the catering service. We're clean freaks, you'll never be left to clean up the site, we'll have it done before you've even realised we've left, such is our skill as tidying away so quietly that you could hear a pin drop. We'll even let you in on a little secret if you're really up for a hog roast: You can hire your own machine for an event or for use with your commercial business. You can probably imagine all the fun that you could get up to with your own hog roast hire Witham machine to use. Different to many shoddy suppliers is that our machines are certified by the appropriate bodies, we top-marked all safety inspections. In all our years, not a single machine has broken on us or a client, the only thing you would usually have to worry about is running out of gas, but that won't ever happen as we'll drop off the machine with a full bottle already attached, setting you up to start your spit roast straight away. When hiring you can in fact buy a pig from us for your hire, so if you're using the hog roast hire Witham service with a plan to cook pig have a look at our machine and pig package.
With its population of 22,000 Witham is just the size we like, not too big but neither too small, it's great real estate for any business, family or individual to make their home. There's a great community spirit running through the town that's just as real as the River Brain that cuts through it. The early history of Witham includes everything from Roman roads to Anglo Saxon temples. Withams name is Saxon in fact, the manor was in 11148 given to the Knights Templar, and there's evidence of some of the earliest Templar lands in the area. Until the 17th century the area was at the heart of the wool industry. Witham has bred a few notable people as well as local produce, most recently is the X Factor star Olly Murs.  There's a decent selection of shops and supermarkets to buy food for an event, but why bother with all the effort of doing it for yourself, especially if you're not the greatest cook, when you could pass the task on to Spitting Pig and have us make an unforgettable appearance.