Hog roast Waltham Abbey do all the hard work for you so you can relax and enjoy your function without having to worry about catering issues that can become apparent on the day in question. The staff we use have been trained to the highest standard and revel in providing the food of kings with the same commitment and standard no matter what occasion they are working on, from a small family gathering to a classy wedding function we put in the same effort to ensure everyone of our customers receives the same great food without cutting corners on service or quality. The hog roasters we use are state of the art and when combined with some of the best produce in the area its a sure fire winner for any event that needs quality catering for a reasonable price.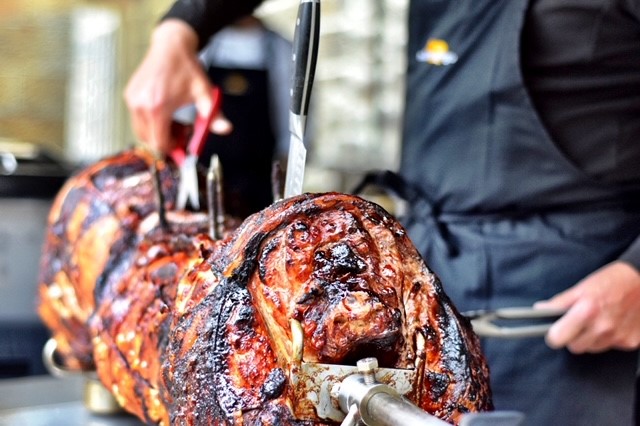 If you like to cook and fancy trying this style of cooking than maybe you could try our excellent hire plan where you take a machine for the day and you give hog roasting a try yourself, you can even supply your own produce if you have a contact in the industry, or we can supply it for you! whatever is easiest for you, we want to make sure your day is hassle free and once you have seen our cookers in action you will be ready to try it yourself. Hog roast Waltham Abbey wants to offer you a break from the normal style of catering with a traditional hog roast supper on your next special event or function, we know the way to great food and its a guaranteed winner on any occasion. The normal style of catering nowadays is pretty standard with the usual offering of cold finger food being the style of most firms well we get rid of the same old boring thing and give you fresh food prepared on site right in front of your very eyes, we serve amazing food at a price not out of the budget range of most customers.
The Best Hog Roasts In Waltham Abbey
Our style of cooking is spit roasting an old form of cooking that has been brought up to date with modern machines and cooking techniques, dating back hundreds of years spit roasting or rotisserie style cooking as it sometimes referred to slow cooks the produce of choice giving it a smooth and tender taste instead of tough over done meats, this form of cookery is tried and tested and gives a taste of originality sure to please even the fussiest eater. Hog roast hire Waltham Abbey know how important it is to give great food and our hog roasters give you that confidence to supply your guests with fantastic food but without bags of hassle, once you have seen our roasters in action you will realise just how simple they are to use.
Our staff will help you with any queries and questions you might have about hog roasting and the skills involved but like we say they are so simple to use even a novice with no cooking experience can use our quality hog roasters with minimal effort but still providing moist and tender meats sure to please even the fussiest eaters. Hog roast hire Waltham Abbey aspire to provide you with no nonsense classic foods and the equipment to pull it off, so with great food and great equipment you can master this form of cooking yourself. Our hog roasters are so versatile they can operate comfortably indoors or outdoors again eliminating problems and worries, we all know how unpredictable the British weather can be well our hog roasters get rid of that problem as they are easily moved and self containing so moving the apparatus in to another area would not be a problem, all you have to do is baste the meats at the appropriate times making sure the meat remains juicy and tender, mouth watering if we do say so ourselves.
As we said earlier we only hire the best staff and pride ourselves on the first class service we provide you and once you have seen us in action you will be hiring our services again and again remember we cover all sizes of functions and events and are happy to answer questions you might have before trying us out so please give one of our members of staff a call and we can answer anything you might be wondering about, we are looking forward to hearing from you.
Waltham Abbey is surrounded by woodland and this makes for leisurely walks. There is plenty to do from live acts at the arts centre to days out or a drink at one of the friendly pubs.
Leaders In Our Field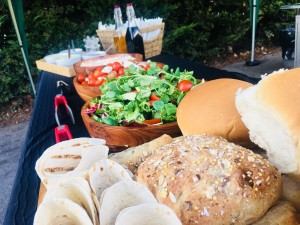 Hog roast Waltham Abbey can offer you an event with a difference imagine pork cooking on a hog roast hire Waltham Abbey machine that becomes the talking point of your event. Hog roasts replaced the medieval spit roast method of cooking when a piece of meat was put on a spit roast and turned over the fire until it cooked. The hog roast machine is its modern day equivalent  it is so versatile it can also cook chickens on a spit roast or be used as a barbecue. There are two secrets to this method of cooking one as the meat is cooked in its own juices it remains tender and juicy and another there is also enough room to cook vegetables. Hog roast Waltham Abbey can offer you the simple hog on a roll ideal for corporate breakfasts or a wedding breakfast.
There are different menus some offering a choice of two meats, potatoes cooked to your specifications maybe with herbs or garlic and a choice of vegetables or you may opt for one of our choice of salads. Some menus include pre dinner drinks, canapés and starters that can include Indian or Chinese starters. For fish lovers we also offer a range of fish dishes and for vegetarians maybe a dish such as a quiche. We also do individual menus for our clients which can be discussed over a coffee so we get things right first time. Last but not least we do a delicious range of pudding from apple pie to lemon cheesecake and for weddings we can bake a wedding cake to your specifications in-house. To get in touch with us contact us through the website or call us we aim to reply in 24 hours with sample menus and quotes within your price range.