With a service so highly regarded we get through more weddings and corporate events than anybody. Setting the platform for an event that's important is our greatest attribute. With menus that have just the one dish or menus that include just about everything bar the kitchen sink, you'll love our super-sized portions of spit-roasted pig.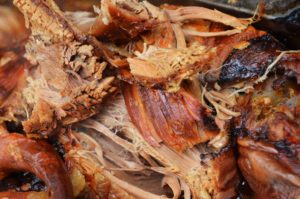 People, if they're throwing a surprise birthday party for a family member or friend, or whether they're organising a professional business breakfast to leave a lasting impression in an important meeting, they ring us or fire an email because there can be no doubt as to how good our roast buffets or pig rolls are in any type of environment. Some of them don't even call on us to do catering any more, they've had a taste of hog roast hire Tiptree and they've been so convinced of the do-it-yourself option, with just how easy it is to get the same results, that they just keep coming back and back to hire a machine. The clients who return keep returning for one reason and that's that with the machines, even though it's the same machine and the same cooking process, the machine attachments which are adjustable means that for every hire they can try to spit roast a new whole meat, or the same meat but prepared and served differently. You can hog roast for hundreds with our in-house hog roast hire Tiptree creations. Give the hire page a read through to really understand the power of hiring a Spitting Pig machine.
The Best Hog Roasts In Tiptree
Well the reason that people choose us despite the many options available to them is because we have a hog roast Tiptree catering service that's incomparable to anything else, it's a sure bet for any type of event and we have the winning record to prove it. It all started many years ago when we got serious about our hog roasting, taking our passion for hog roast cooking and using it to put together a hog roast catering crew that understands both worlds, hog roasting and exquisite service. While we're rooted in humble hog roast Tiptree beginnings, we've called in a lot of big favours from friends and acquaintances over time, from a team who helped us with the designing and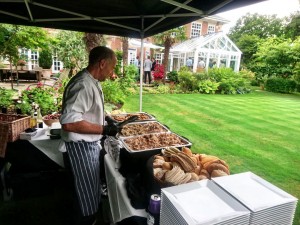 creation of our own series of Spitting Pig spit roast machines, to the first class chefs who started out with us and worked plenty of overtime for us in the beginning because they were fully committed to seeing the company become what it is today. The best hog roast catering company possibly in the world.
We don't know of any hog roast company that mixes the true hog roast experience and flavour with a top of the class service. The Tiptree village has a population of about 12,000 but that's always changing as the area has seen some rapid expansion in recent years, it's nearly doubled in size since 2000,  there's lots of new houses and families all the time and that's only been good for the local economy and it's added lots of new things to do and see. Tiptree has gotten so many new people that in the late 90's locals got to vote on whether to change our official status to that of a town, but most of us thought better of it and elected to remain a village, which has meant that today we're almost the biggest village that there is in size.
Despite the new builds over the years there's still no shortage of greenery if you ever fancy a walk. Just south of the village is Tiptree Heath, an entire 25 hectares of heath which because of its uniqueness is regarded as a site of special scientific interest. Smugglers would often exploit the rugged heathland and the many water inlets in the heath, it was an ideal spot for criminals to hide the contraband that they'd smuggled. Many animals graze the heath, from exmoor ponies to Dexter cattle. Dexter beef is particularly tasty and can be spit roasted.