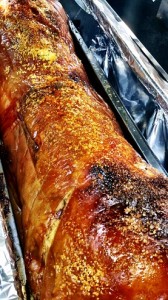 Because Spitting Pig is a hog roast caterer that does just about everything, it means that our spit roasting is appropriate for just about all events. We have a chameleon like quality, whereby we can change our hog roast  Theydon Bois colours to fit all environments. Our clients who need us for a business breakfast get catering to suit such an event, the same is true for any event, like when we're at a really big corporate function, a black-tie event, we'll send out a team who'll do the task appropriately, serving food with the same qualities, like the sit-down menu meal which is best selected for an event of that kind.
All the produce going into our catering is top notch. It's fair to say that while a lot of produce has improved over the years and is fresher than ever, and especially in regards to the likes of pig which are raised in better conditions, some produce has been on a general decline. I'm sure we've all got relatives, or are old enough to remember ourselves, when the likes of tomatoes were just a lot better. Well with Spitting Pig all our produce is very high quality, even our tomatoes and strawberries used taste like they used to because they're not from soulless multinational farms, they're from small family farms that put care into growing only the best. And it's the best produce that makes it easier for our chefs to make the best food, be it a spit roast whole turkey or a mini cheese and tomato pizza as one of your canapé options.
The Best Hog Roasts In Theydon Bois
A sight worth seeing if you haven't already is Spitting Pig hog roast Theydon Bois catering. It's catering on another level and the twist is that we specialise in hog roasts, it's a twist because even though the hog roasts are of a quality that stands out from the rest, the exact same thing can be said of the other foods we provide. It's unusual for a hog roast caterer to have the same adept skills for making the likes of desserts and salads as they do spit roasts, but we've managed it by bringing into our team acclaimed chefs who've been schooled in proper kitchens.

Looking through our record books it wouldn't surprise us if we've broke a few records along the way with our catering. We'd have to be close to it regionally for the size of some of the hog roasts that we've made, not just for hundreds of people, but there's jobs we've done which entailed hog roast and spit roasting for thousands of people. We've probably gone near enough on the other end of the spectrum too, sometimes making roast pig rolls for just a small gathering of people numbering less than 10.
Leaders In Our Field
Theydon Bois but it's not far at all so a popular activity is to get out there for a walk. The name of Theydon Bois is rooted in the family of Bois, who were in charge of the manor for two centuries, from the 12th to 13th century. One thing about the village which really sets us apart from any other village of our size is that there's no street lighting, which is just how we like it. It's a hot voting issue but the installation of said lighting has continually been voted against by locals like ourselves. Some events which aren't to be missed are the likes of the annual Donkey Derby, where children race donkeys and adults get to have a small but cheeky punt on who'll win. It's a great local event and one which has been great for businesses like us because sponsorship of donkeys is open to anyone. That's not forgetting some stellar food and drink to be had, as well as much other entertainment.
A mainstay all year round are several quality restaurants, takeaways, pubs and cafes. The Avenue of Trees, which were planted when Queen Victoria took the throne in 1830s, is probably our most famous landmark. The oak trees are some sight, and that's not just us saying that because of local pride, the Epping Forest Committee takes the same view and ranks the Avenue of Trees with the highest priority.