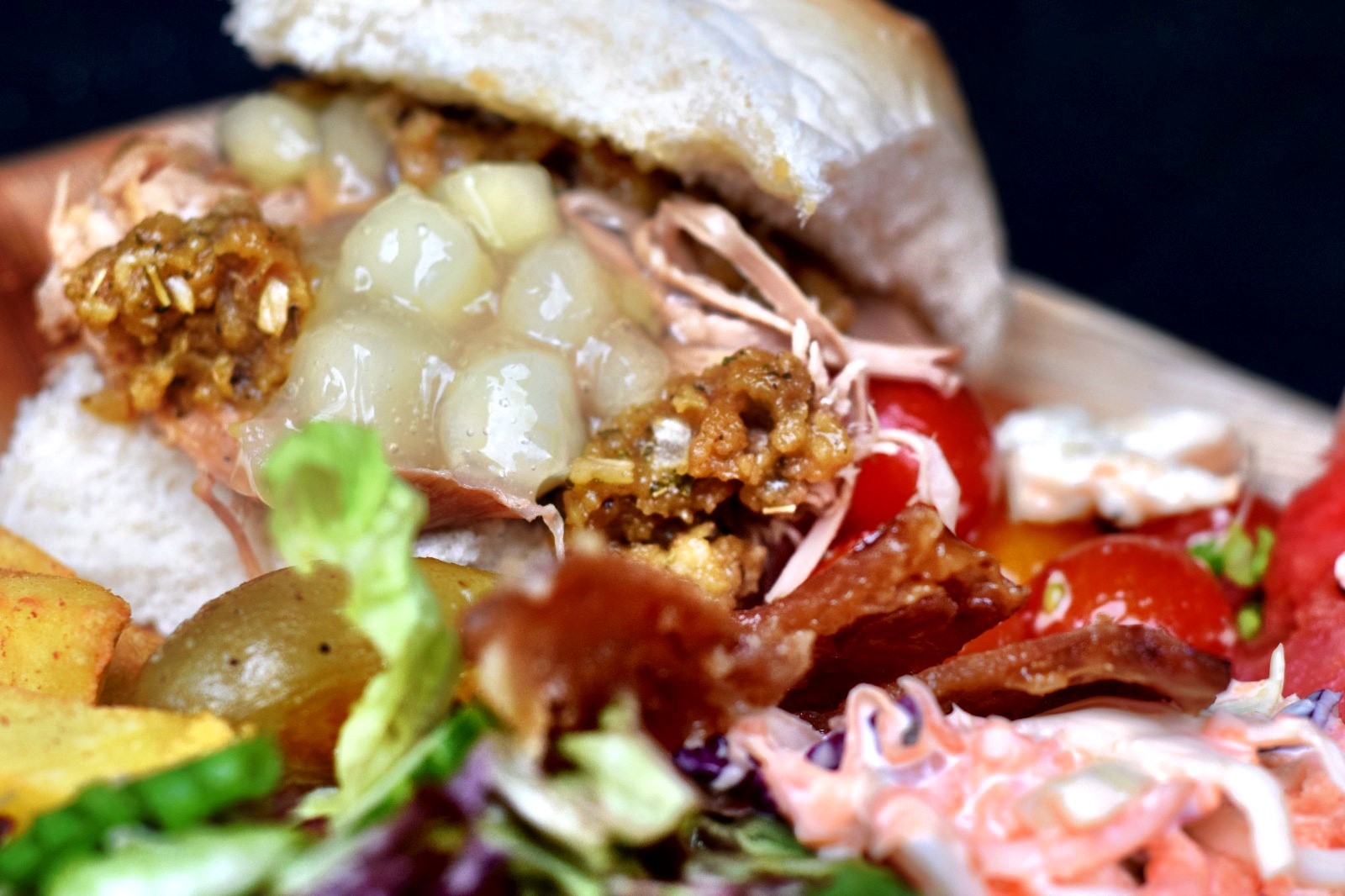 Our hog roast Stanford-le-Hope  tastes as delectable and wholesome as you'd expect, they also tick the other catering boxes that we know are important, those being to engage your sense of smell, as well as the sight. An event is a big deal, the clue is in the name 'event', we make hog roasts to meet the importance, we make our catering a hog roast or spit roast spectacle.
With a hog roast the atmosphere is set. Every last piece of the puzzle is included when you book us. Of course, it goes without saying that we have lots of menus and that lots of those menus are great for lots of different occasions. But also our clients go crazy for the bespoke alternative to hog and spit roast catering.
In the industry everybody is buzzing that nose-to-tail cooking has made a comeback, caterers are stumbling over themselves to try and quickly throw together menus and dishes to cash in on the nose-to-tail buzz, but they cannot match what we do because we've been perfecting the whole hog cooking style for what seems like forever. We've long been telling people they're missing out on some of the best bits of meat, the cuts that make hog roasting all the more tasty, now they're finally clocking on, realising we were right! The pigs which are sourced on a regional basis are available in many sizes, for us and for you. For us when we're catering because we need different sizes of pig so that our chefs can feed as many people as required, and you for the same reason if you land on hog roast hire Stanford-le-Hope rather than hog roast catering.
The Best Hog Roasts In Stanford-Le-Hope
But never mind the pig that has people racing to the phone to book us, clients are just as drawn by the other options, from the many spit roast choices like a roast beef or a poultry choice, to finger-licking canapés. Clients can now even be the boss of their own spit roast with hog roast hire Stanford-le-Hope and that's got people talking, some people don't even consider that for an informal event like a garden party that they could just hire a machine and put it to work themselves. It's very enticing as the machine is ready to go with gas equipped on delivery, the optional pig that can be included means that if you hire and buy a pig there is literally nothing you need to do once the machine is with you. Everything is lined up to ensure the very least effort for the client. You'll burn all of 3 calories if you hire a Spitting Pig machine!

It's hog roast catering that we want to make Stanford-le-Hope best known for. That's our passion, it's what we're all about; hog roasting is what we want to share with people and help to take to a new height of popularity. We've had loads of success up to this point, it's been easier than we imagined. The notorious quality of our spit roasts really sets us apart and even without spending money to advertise what we do we've boomed to popularity and it all started with our first event for 50 people, those 50 guests sewed the seeds and before long half the town was familiar with the name Spitting Pig. There can be no doubt that in what makes hog roast Stanford-le-Hope  catering considered great it's the food that gets people talking, it makes or breaks a service. But catering today isn't just what's on the plate, it's the stuff beforehand. What good is excellent food if the rest of the event isn't up to scratch? We're a hog roaster and an event planner, providing an extensive service to help you to organise and put together your event.
Stanford-le-Hope isn't the largest town there is, it's quite small and hasn't been that well known historically speaking, probably the best known fact about the town is that Joseph Conrad, the novelist, resided here and wrote much of his work here. The River Hope also runs through the town. Apart from that we're a rather new town as far as settlement goes, there's little discovered evidence of any notable settlement throughout any of the ages. But Stanford-le-Hope is growing in size though and that can mean only one thing, more people and more immaculate events. There's still a decent number of shops to look into, and of course we have a cricket, rugby and football team that aren't a bad watch if you have a quiet weekend.