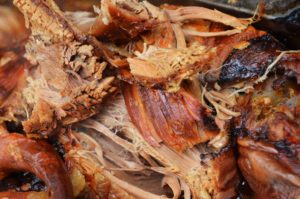 Most have heard of our famous pigs but if you haven't let me explain, Hog roast hire Kelverdon use twelve-month old male pigs for roasting this is the correct age for hog roasting and males are always used. The pigs come complete with head legs hoofs etc but have all the inside organs removed. The pigs are complete and most of the pig can be ate. The pig is fixed onto the machine it takes around six hours to slow roast to absolute perfection and we arrive nice and early to ensure it is cooked on time.
Nearing the end of the cooking time we prepare the skin for crackling we score the skin with a very sharp knife and cover the skin in oil we then add salt to the skin and wait for the magic to happen! In no time at all we have the most perfect crackling once the crackling is removed we then see the meat and what a treat it is! The meat is so moist and cuts so easily and really does have your mouth watering! We can then use the meat in a variety of ways we can either make a sandwich buffet or meals.
For a sandwich buffet we bring our selection of home baked freshly baked buns and slice the meat up and place into buns for your guests to enjoy, either hot or cold these are a really popular choice for summer time eating, for the mean meals we will prepare and freshly cook an array of seasonal vegetables to accompany the meat and make gravy using the juices of the meat, our gravy is a particular favourite along with our famous crackling! One thing your hog roasting event will do is have your guests chatting! Seeing the pig roasting really is an ice -breaker and gets everyone chatting most are eager to hear about the history of hog roasting and our staff are always keen to pass on their knowledge to an audience!
The Best Hog Roasts In Kelvedon
We always aim to give you the best day and we guarantee we will not be beaten in quality and value for money. So if you want something truly original to make your party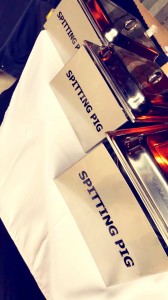 stand out from the rest and you want to sit back and have nothing to do then give us a try, we will guide you from beginning to end and make sure your day is perfect give us a ring and book your event today.
Birthday, Anniversary, Christening, Wedding do you have any coming up this year and you want to mark the occasion then look no further than Hog roast Kelvedon catering. We are one of the countries leading hog roast caterers and have been well established for over ten years. Here in the wonderful village of Kelvedon we call home, the village has records dating back to the middle ages proving that there was an early settlement here it also stands on a Roman site. The village started to expand rapidly during the years in the Victorian area with the addition of rail it was used regularly as commuting resulting in a large development in years to come to cater for all the new people wanting to live in Kelvedon.
Hog roast hire Kelvedon don't care if you want to cater for twenty -five or even up to two thousand or more we can help. We really don't mind where ever you are as we travel far and wide across the UK distance really is no object! We also cater summer and winter as our machines can be used indoor too! Ring our friendly sales staff and they can guide you through the process of booking a party at hog roast Kelverdon catering they are always on hand ready to make your call and the sooner you book an event the sooner we can get started on planning your day!