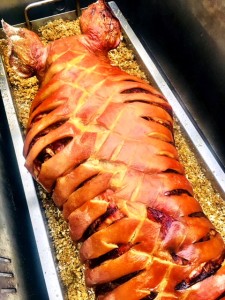 Roast pork and apple sauce, roast beef and horseradish, roast chicken and onion gravy. Here at Spitting Pig we think there's nothing better than a proper British roast. Our meat is slow roasted over an average of six hours, which makes it melt-in-the-mouth tender. Served in a roll, with traditional accompaniments, we think there's nothing better it is certainly a treat to not only the eyes but to the mouth the way the pig turns in the machines whilst it is cooking away seems to fascinate so many people that we cater for including those who have seen a hog roast in action before.
When it comes to liking a hog roast Chigwell, we're Birds of a Feather with the people in Chigwell. Although the town is now largely suburban, it was traditionally a rural community and they haven't forgotten their relationship with good local food everyone in this town seems to use the local butcher for his burgers and sausages because nothing beats good quality produce and fresh seasonal vegetables from the local farmers that take pride in what they grow each season including potatoes that we buy from them every time we have a menu with potatoes coming up we always know where to go for the best ingredients. Even in more urban areas we source all our hog roast Chigwell, meat as locally as we can, because we believe there's nothing more important than supporting local and independent food suppliers. After all, without them we couldn't guarantee the freshness and taste of our pig roasts – and what's the point of spending hours cooking something that won't be at its best when it's finished?
Chigwell sits in a unique position between the city and Essex. Officially it's the Epping Forest District of Essex, and benefits from all the natural beauty of the forest and the Reading Valley Meadows Local Nature Reserve. But the town is also served by two different stations of the Underground, and uses the area code. Because of this it has a very special atmosphere, "rural suburban" and only a tube journey away from the sights and sounds of the capital.
The Best Hog Roasts In Chigwell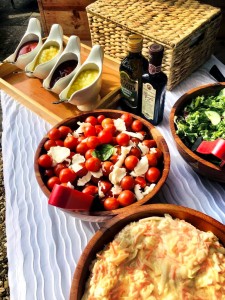 Because of this, it's very special to cater for events in Chigwell. With the capital so close, it would be easy to seek out fun and good food in the big city, but people still like to celebrate closer to home. It's great to set out our hog roast Chigwell, gazebo in the beer garden of a local pub and listen to people enjoying themselves inside, whether they're shouting at the football on the TV or having a family get together to celebrate a birthday or anniversary. It's great for the staff to, since it offers something a bit different to brighten up a weekend and they will be sure to remember the great tasting food that we supply as it really is as wonderful as it looks.
We like to think a spit roast can suit every occasion possible, and our options reflect this because we have so many menus to choose from our traditional hog roast as a snack in a roll and you can add on things from here we can supply salads, potatoes and if you would like something a bit come complex we are also able to add puddings canapés, soups as a starter our most popular soup has got to be cheddar cheese and broccoli with as creamy texture it always goes down well with all our clients.
If all you want is a small barbeque arrangement, with no outside help, we'll supply the machine and training so you can have a DIY roast. Meat is optional – we can supply one of our fantastic pork, lamb, beef, chicken, or turkey roasts, or you can bring your own if you have something else in mind we have hired out machines to people in the past that have wanted to cook a wild boar! If you've hired the works, our hog roast Chigwell, chef will prepare the rest of the food while the roast is cooking. This can be as simple as meat free options for the vegetarians, burgers and sausages, or a full buffet. For the more formal occasion, such as a wedding or corporate event we offer a meal with multiple courses, waiting staff, crockery, and silverware. Whatever you choose, our staff will clear away our rubbish before we depart, leaving you with more time to enjoy the company of friends and family.